There are fees associated with most (but not all) JMIR journals and most (but not all) article types.
Grant Funding
Most authors pay these costs from their grant funding, from the same funding envelope from which they would, for example, pay conference travel and fees.
Institutional Memberships and Partnerships
Some universities, institutions, or departments have institutional membership and partnership arrangements with JMIR Publications, in which case the APF can be waived, for example:
Faculty and students of the University of California can publish with $1000 discount or free of charge if they have no research funding (see APF Support for Corresponding Authors from the University of California)
UK Universities that have signed up for the JMIR-JISC deal, see list of participating UK Universities at (JISC FAQ). Please contact your library if you are a researcher and your institution is not part of this deal!
Other institutions may have institutional open access funds, for example, the signatories of the Compact for Open Access Equity (for details, see also How are JMIR authors funding the publication costs?).
Please contact your librarian to ask to become an institutional member with JMIR. Some libraries spend millions for so-called transformative deals with traditional publishers, but fail to support pure open access publishers. We need the support of the research community to change this.
Costs for Publishing at JMIR
The general cost for publishing in our journals is the total Article Processing Fee plus extra optional charges such as Fast-Track Fee and Knowledge Translation Add-Ons.
Most JMIR journals have an Article Processing Fee (APF) (sometimes called Article Processing Charge or APC), payable only in case of acceptance.
For all JMIR journals, authors can expedite the peer-review and publishing process by paying an optional Fast-Track Fee (How to fast-track (expedite) a paper and what are the benefits? ).
Optionally, authors can add innovative Knowledge Translation Add-Ons to their cart when they check out (How can I order/pay for knowledge dissemination add-ons like TrendMD or sponsored Tweets?.

Note: for papers accepted into the COVID-19 theme issue (or any paper related to the COVID-19 pandemic), we are unable to offer the sponsored tweet service. This is due to a restriction on promoted tweets regarding any information about the pandemic. The sponsored tweet option should not be selected during the payment process. We would instead recommend using our TrendMD manuscript promotion tool.

Full fee schedule information for JMIR journals can be found by clicking on the Journal Information link in the banner and choosing "Fees, Memberships, and Partnerships" to access the information on Article Processing Fees (see screenshot below). Note that any papers transferred between JMIR journals after August 3, 2022, will be charged the APF of the target journal at the time of transfer.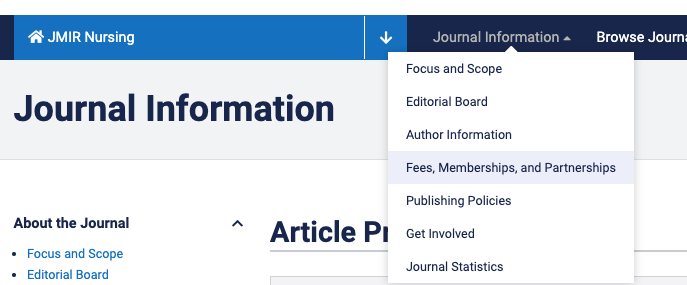 Exceptions (waived fees):
For more information on publishing without paying an APF, see I don't have any grant money - how can I publish in JMIR?
Special Fees in Exceptional Cases for Additional Editorial Work
See also: