An ORCID is a widely accepted unique identifier for researchers/authors. It is a simple numerical identifier (e.g. 0000-0001-6479-5330). Each researcher/author should have only one ORCID, which will stay the same over their lifetime.
Along with many other publishers, JMIR is a signatory of the letter Requiring ORCID in Publication Workflows: Open Letter (ORCID.org) and having an ORCID is mandatory if you wish to publish in JMIR, for the many reasons stated in that letter. JMIR exceeds the minimum requirements in this letter as it requires an ORCID not only for the corresponding author, but also for all coauthors.
Researchers can apply for an ORCID free of charge using a simple registration form on the orcid.org website. This process takes only 1 minute.
An ORCID enables disambiguation between two researchers with the same name, e.g. "John Smith", ensuring that academic credit for a publication is given to the correct John Smith. Also, in case of name changes (e.g. marriage), it facilitates record linkage.
There are other benefits of having an ORCID. Your research output will benefit from improved discoverability. ORCID is indexed by Google Scholar, and you can also link it to the author systems used in key databases like Web of Science and Scopus. By attaching your unique identity to articles, datasets, patents, etc., you ensure that all of your work is found when other scholars search for your research output.
JMIR Publications is an early adopter of ORCID and a member of a group of publishers requiring ORCIDs for all its authors in its publication workflow, since 2014
At JMIR, all coauthors must have an ORCID. These can be supplied after acceptance, but ideally they are already entered in our metadata form during submission (see also Where/how do I submit my paper to a JMIR journal?).
Only a group author does not require an ORCID (What is a group author (collaborative author) and does it need an ORCID?).
Reviewers are also encouraged to enter their ORCID in the review form, if it is not already populated.
If you have multiple user accounts at JMIR, supplying the same ORCID in each user profile will (virtually) merge the user accounts. Some users have different email addresses and multiple JMIR user accounts e.g. as a result of review requests which created a new user with a different email address. While we won't physically delete any of these accounts, entering an ORCID for each user account will ensure that a user sees all of their reviewing, authorship, and editorial tasks in one user account. Sometimes authors want to check the status of their manuscript and accidentally login with a different user account, and are then confused if they don't see the paper they submitted (See also I can't find my paper I submitted). Entering an ORCID will help to aggregate information across different user accounts and link it back to one individual. See also I have multiple user profiles and want to merge/combine them. How do I delete/merge my old user profiles?
If you are a submitting author, we highly recommend to ask your co-authors for their ORCIDs and add them to the metadata form on or shortly after submission, see Where do I enter the ORCIDs of my coauthors?
If you are a reviewer, we highly recommend to enter your ORCID in your review form so we can credit your user account correctly even if we used a different email address.
After Publication: Populating the ORCID account
After publication, JMIR authors can now opt in to having your ORCID record automatically updated when your article is published.
You need to do the following:


Look out for an email from Crossref in your ORCID Inbox (you have to login at orcid.org) requesting permission to access your ORCID record. Crossref is the non-profit organization where we register the article metadata and its persistent identifier, the DOI, to make your article discoverable and citeable.
Grant Crossref permission and then every time you publish an article with a Crossref member publisher (there are over 7,000) and provide your ORCID ID your ORCID record will be automatically updated without you having to do anything.


More information about Crossref's ORCID auto-update is available here.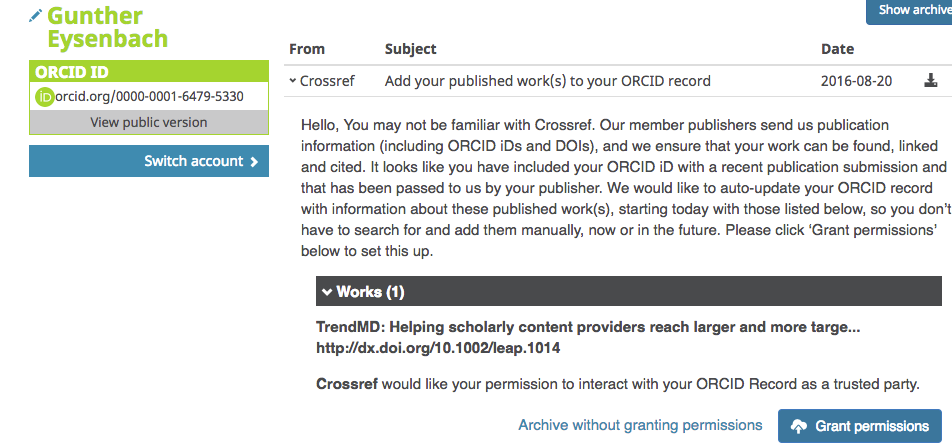 See also: