The citation information is given on the right navigation bar next to each article: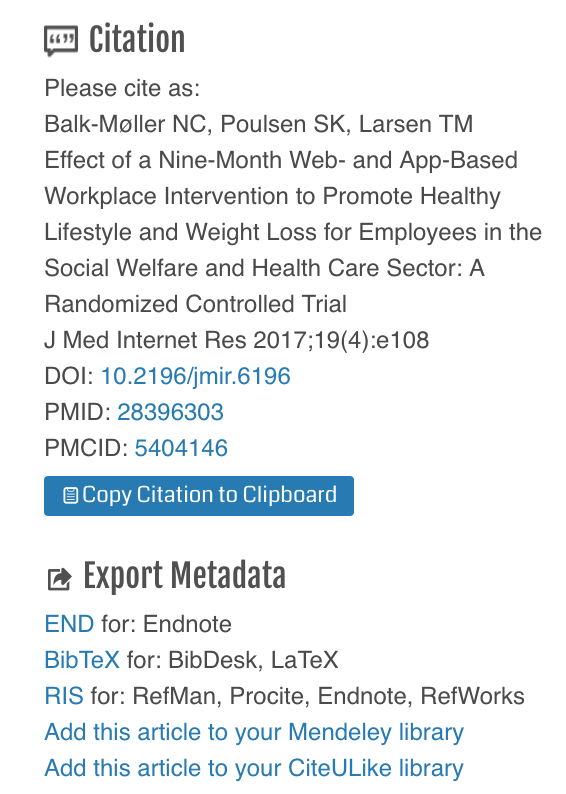 Please always include the DOI when you cite an article.
If you use a bibliographic citation manager such as Endnote, use the links underneath the citation information to export the citation.
Alternatively, you can copy & paste the citation information into your clipboard by clicking on the blue button "Copy Citation to Clipboard" (use command-V on a Mac or CTRL-v on Windows to paste the citation into your application).
As JMIR articles are electronic only, thus they do not have page numbers, but instead an article-ID (e.g. "e108"). This is a common way to cite electronic articles. Do not omit the article-ID from your citation. Use it instead of page numbers. Electronic articles do not have page numbers. Some reference managers store the article-ID in a separate database field - make sure that the bibliography output format generates the article-ID in lieu of page numbers.
Since 2019, the article ID is identical with the manuscript tracking number (which authors receive when they submit a manuscript), which is also the last part of the DOI. Example:

If you are an author of an accepted article which is not published yet, please read As author, how can I cite my accepted but not yet published article (in press/forthcoming JMIR article). That article also explains how the DOI is built.
Related: