It's important to cite sources you used in your research for several reasons (Source: MIT Libraries):
To show your reader you've done proper research by listing sources you used to get your information
To be a responsible scholar by giving credit to other researchers and acknowledging their ideas
To avoid allegations of plagiarism by quoting words and ideas used by other authors
To allow your reader to track down the sources you used by citing them accurately in your paper by way of footnotes, a bibliography or reference list
Thus, you should make it a habit to import articles you are reading on JMIR journals into your favorite bibliographic reference manager, and JMIR tries to make it as easy as possible to cite JMIR articles properly.
On the right hand side of each article you will find a detailed summary on how to cite the article you are reading, and this information can be copied to your clipboard (for copy and paste into a text document), or exported to your favorite reference management software.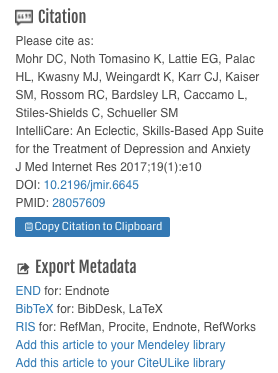 If you use Mendeley, click on the Mendeley icon above the citation box.

To build a comprehensive bibliography of all JMIR articles about a specific theme, you can browse the JMIR themes (select "from all journals") and then click on a theme title, for example Games for Health.
In the left upper hand you can then click "Download issue citations" and then choose a format of your choice to download all article references indexed with this theme.

Related: