According to impact factor/citations, author feedback, and expert surveys, JMIR journals are consistently top-ranked.
Impact Factor: The flagship journal of JMIR Publications, the Journal of Medical Internet Research (JMIR), was ranked #1 by Clarivate Analytics (formerly Thomson Reuters) by impact factor in the Medical Informatics category 6 times, including the latest version released in June 2019 (current JCR impact factor 2018: 4.945). The journal has a better impact factor than Plos One, BMJ Open, PeerJ etc. JMIR mHealth and uHealth is ranked #2 by impact factor in the medical informatics discipline, with a current impact factor of 4.301. JMIR Serious Games remains the top games-related journal of those ranked in SCIE with an impact factor of 3.351. JMIR Medical Informatics has received a fantastic inaugural impact factor of 3.188.
Other sister journals are on a similar trajectory.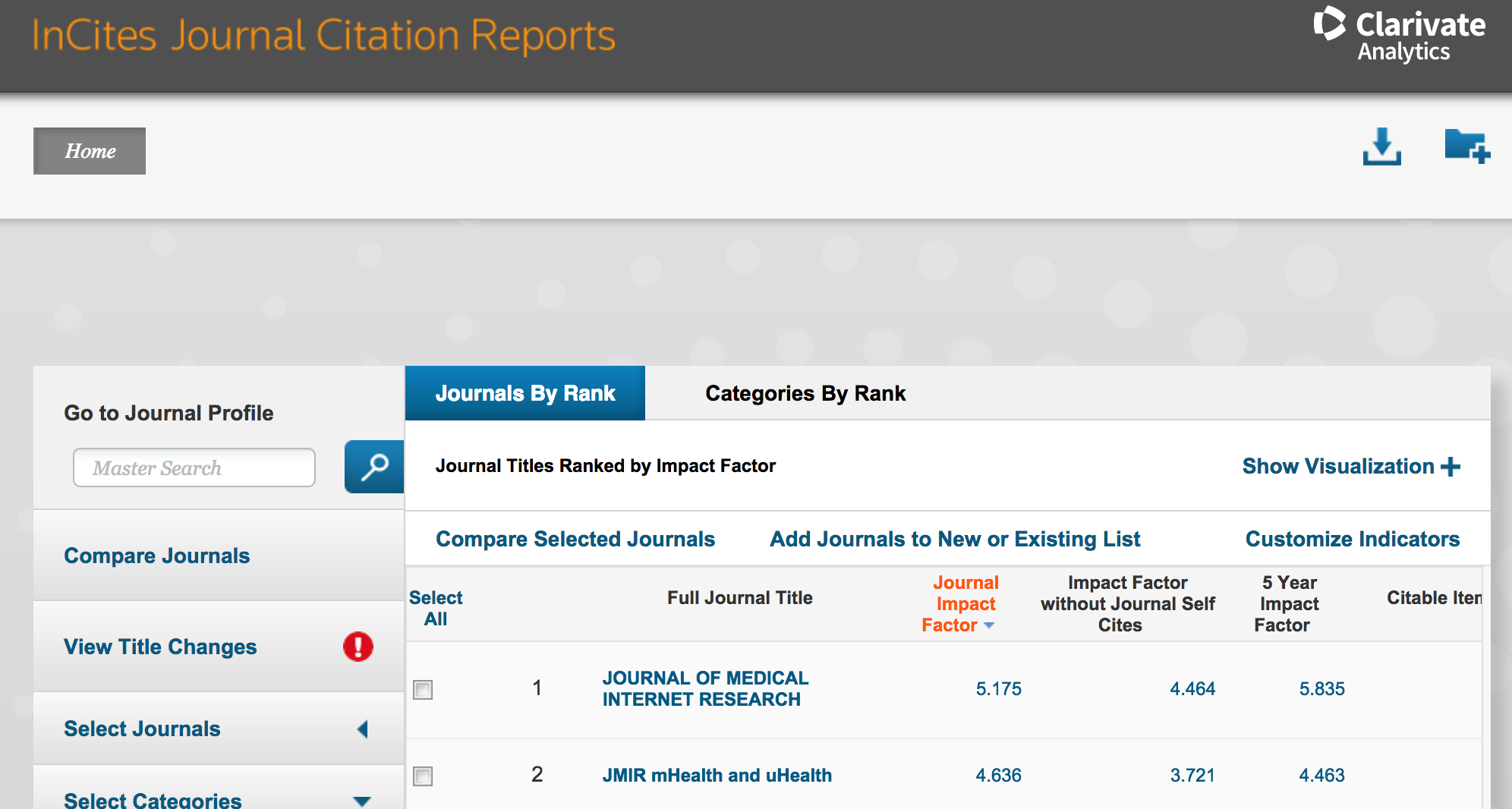 h-index (h5) / Google Scholar: Google Scholar ranks journals by a 5-year h-index (h5), and also according to that metric, the Journal of Medical Internet Research (JMIR) is ranked #1. It is remarkable that JMIR mHealth also makes the list of top 20 journal, as of 2016, even though it publishes for only 4 years, i.e. less than the 5-years taken as basis for the h5 calculation.  
Speed/Turnaround times: JMIR Publications has one of the fastest turnaround times in the scholarly publishing industry (see What is your turnaround time?), while maintaining rigorous review practices, as well as meticulous copyediting and proofreading after acceptance. We achieve this with a high degree of automation, in-house production, as well as incentives for reviewers and editors to make timely decisions within deadlines, e.g. through karma credits (see Karma Credits - What are they and how to collect them?)
Author Feedback on journal rating sites: JMIR is also ranked "leading" on journal rating sites such as scirev (https://scirev.sc/journal/journal-of-medical-internet-research/) - with a manuscript handling rating of 4.7 (out of 5), reflecting a high degree of satisfaction with the quality of peer-reviews and speed.
Leadership in best practices. JMIR is one of the cofounders of the Open Access Scholarly Publishers Association (OASPA), and is committed to industry-leading quality and ethical publication practices.
Innovation: JMIR Publications has invented and implemented several industry-leading products and practices, see What are JMIR's innovations?
Expert journal rankings: According to a survey among 398 health informatics experts by Dohan et al (The Expert Survey-Based Global Ranking of Management- and Clinical-Centered Health Informatics and IT Journals, Transactions of the International Conference on Health Information Technology Advancement. Paper 45. http://scholarworks.wmich.edu/ichita_transactions/45), JMIR and it's (then) 2 sister journals JMIR Medical Informatics and JMIR mHealth were all ranked in the top tier, namely in the A+ (top 5%) and A (top 20%) tiers. JMIR Publications is the only publisher with 3 journals in the top 9 journals rated A or A+. 
Last not least, no other publisher publishes more ehealth-related articles than JMIR Publications. Our submission growth across all JMIR journals is shown below (note that 2003 data are incomplete; with 2017 projection, as of 25 Feb 2017).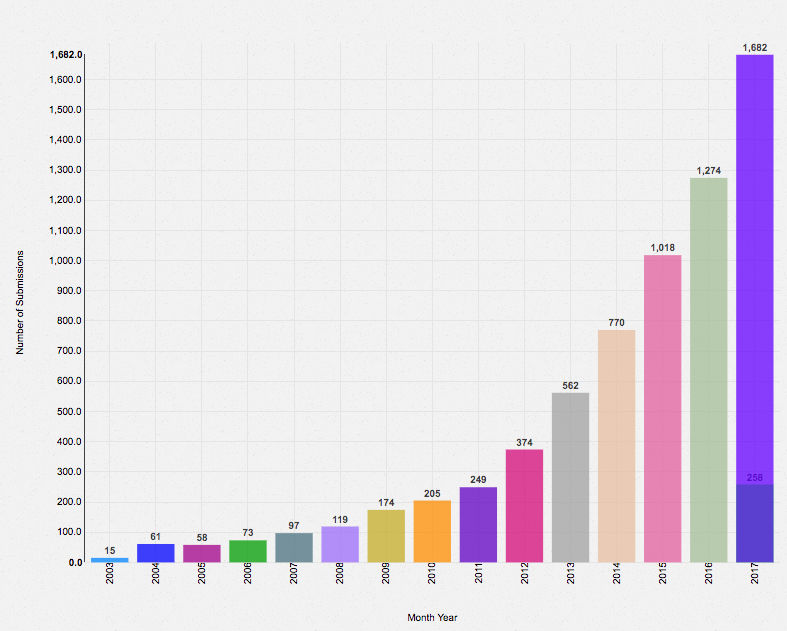 See also: