JMIRx (What is JMIRx?) is a series of journals, which we call "superjournals" [1]. A superjournal is a type of "overlay" journal) that is sitting on top of preprint servers and offers peer-review and copyediting/archiving/indexing of the Version-of-Records of Preprints, thus does everything a "normal" journal does, except that authors no longer have to submit their manuscript to a journal - instead, our community reviewers, acquisition and review editors find the preprints they want to publish and extend conditional offers of publication to interesting articles published in Preprint servers, as well as soliciting reviews and commentaries.
In addition to the "editorial prospecting" workflow, authors can also self-nominate their existing preprints for publication (which is the equivalent to a traditional journal submission).
Preprints already submitted to journals are not eligible for JMIRx.
Preprints already peer-reviewed but not published/under consideration by a journal are eligible for JMIRx.
Submission options
In total there are currently the following options to submit a preprint to JMIRx:
A. (after posting a Preprint on MedRxiv or BioRxiv) JMIRx submission forms (e.g. JMIRx-Med form, JMIRx-Bio form).
Discussions from the PREreview Preprint journal clubs or Plan-P accredited peer-review services such as PeerRef* can be used in lieu of peer-review and the preprint can then be published as "version of record" in JMIRx.
B. Direct submission to a JMIRx journal via OJS (use this route if the paper is not on MedRxiv. A preprint will be created during submission)
C. (from MedRxiv) M2J submission through via OJS
A. Upload a Preprint and use the minimalist JMIRx submission form (Preferred).
The minimalist JMIRx-Med submission form takes only 3 minutes to fill in and only asks about the link to the preprint and asks about peer-review options.
Use this route also if the preprint has already been peer-reviewed by one of our Plan P PRS (Peer-Review Services), such as PeerRef* or PreReview (see also "Peer-Review Options" below - in these cases the preprint will not go out for additional peer-review.
Note that before you can use this submission form, you have to create an account at ORCID.org/register. The ORCID is a life-long stable identifier for authors and is also useful for a number of other applications (see What is an ORCID KB article). While for the submission only the corresponding author requires an ORCID, for ultimate publication we require ORCIDs for all authors, so please ask your coauthors about their ORCIDs.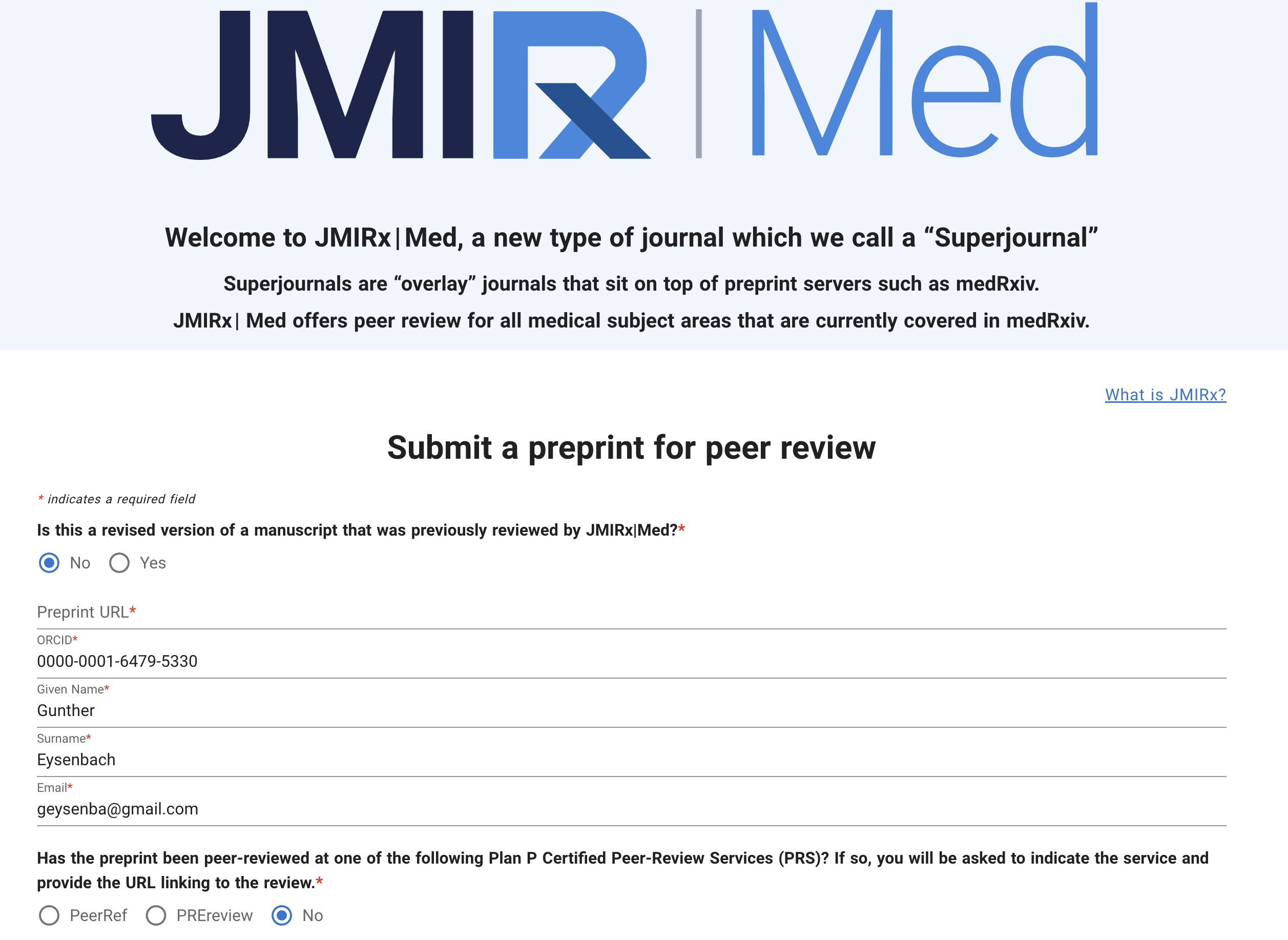 B. Direct submission to a JMIRx journal via JMIR Preprints
(Only for papers not already on MedRxiv/BioRxiv)
Submit a Preprint directly to JMIRx via the JMIR submissions portal (and opt-in when you are asked to expose the submission as JMIR Preprints).
The submission process is similar to the submission process for traditional JMIR journals, see Where/how do I submit my paper to a JMIR journal?
Exposing the submission as JMIR Preprint (select "availability of the submitted document for everybody" on submission) is mandatory, as JMIRx journals are so-called Plan P compatible journals which only accept submissions from Preprint servers, in other words, the submission must be made available as preprint.
C. MedRxiv to Journal (M2J) [JMIRx-Med only]
Upload a Preprint to MedRxiv and then - from the MedRxiv site - use the M2J (see details under M2JMIR) functionality at MedRxiv to submit the paper to the Journal of Medical Internet Research - you will then receive an email with a link to the JMIR submission form, where you must change the target journal to JMIRx-Med. You will still need to complete the submission form on JMIRx-Med (you should receive an email with a link to complete the prepopulated JMIR submission form).
Peer-review options
In the submission form, authors can select various modalities for peer-review, which include
traditional editor led narrative review reports: The editor will try to find experts to review your preprint
request PREreview video journal club: A live-streamed preprint journal club run in collaboration with PREreview, a videoconference session where experts and interested readers from all over the world join to provide constructive feedback to the manuscript, the transcript of which will form the basis for an author revision.

Discussions from the Preprint journal club can be used in lieu of peer-review and the preprint can then be published as "version of record" in JMIRx.

(example)
Crowd Peer Review: annotation-based, crowdsourced reviews, using peer-review communities (we call these hashtag communities, forthcoming)
if the preprint was already reviewed by a Plan P accredited peer-review service, for example PeerRef*, JMIRx will accept existing peer-review reports and publish the preprint (or transfer it to a Plan P compatible journal). Note that you cannot request a peer-review through the form - go to PeerRef* first to request a peer-review