JMIRx (jmirx.org) is a new journal series (launched end of 2019) and new type of journal, which we call "superjournals" [1]. The first superjournal we have been launching is JMIRx-Med, which now published over 100 preprint peer-reviews, author responses, and accepted/published papers (they can be found at http://xmed.jmir.org). Our vision was to create a fully indexed journal series that can be used as a formal outlet for community-reviewed preprints and selected JMIRx papers are already indexed in PubMed and PubMed Central. In March 2022, JMIRx-Med was accepted as first overlay journal in PubMed Central/PubMed.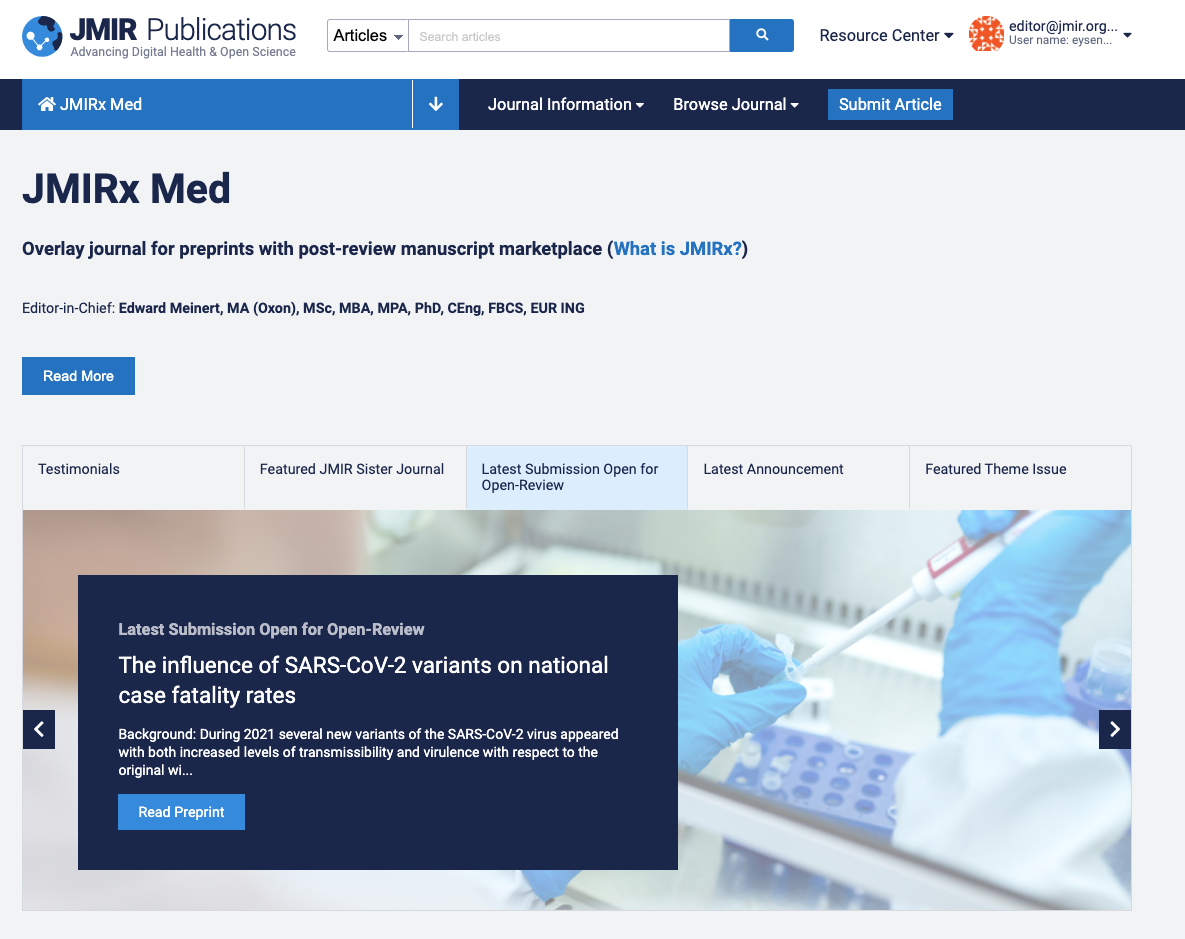 A Superjournal [1] (a type of "overlay" journal) is sitting on top of preprint servers and offers peer-review and copyediting/archiving/indexing, thus does everything a "normal" journal does, except that authors no longer have to submit their manuscript to a journal - instead, our community reviewers, acquisition and review editors find the papers they want to publish and extend conditional offers of publication to interesting articles published in Preprint servers, as well as soliciting reviews and commentaries. In addition to the "editorial prospecting" workflow, authors can also self-nominate their existing preprints for publication (which is the equivalent to a traditional journal submission), using a submission form that essentially only points to the preprint. Peer-review communities are alerted of preprints in their area of interest, and provide peer-review (see below for the different innovative models we are supporting). If reviewers ask for revisions, these revisions are also uploaded to the Preprint server.
We see this as the future of publishing, as predicted 20 years ago in the year 2000, when JMIR-founder Gunther Eysenbach proposed a "preprint-first" publication model [2]:
Researchers could submit type-1 electronic papers [non peer-reviewed preprints] to preprint servers for discussion and peer-review, and journal editors and publishers would pick and bid for the best papers they want to see as 'type-2 papers' [version of record] in their journal." [2]
This vision was also articulated in 1999, in one of the very first editorials published in the Journal of Medical Internet Research:
Perhaps even a new generation of journals will be established - journals which do not publish primary papers themselves, but which only evaluate, weight, comment, and put into context information that has been published elsewhere on the Web. Traditionally, the primary aim of journal publishers is to establish quality control mechanisms and to establish a reputation for the reliability of their information. In the near future, publishers - without putting any ink to paper or producing another medium - may get back to this fundamental truth of publishing - to be a credible source and to establish trust, to evaluate and describe information which perhaps is already published on the Internet. [3]
The model was later refined by JMIR editorial board member Jim Till, who suggested a two-stage review process with commenting on Preprints and solicited peer-reviews [4].
More recently, 20 years after these initial proposals, this model also has been referred to as PRC (Publish - Review - Curate) [5], with "publish" referring to publication of a type-1 publication (preprint) and "curate" referring to publication of a type-2 publication (peer-reviewed, version of record) in a journal (E or F in the figure below). During the COVID19 pandemic, the adoption of preprints skyrocketed.
In 2022, Plan P was developed to create a business model for what we now call Plan P journals (journals implementing a PRC process) and freestanding peer-review services.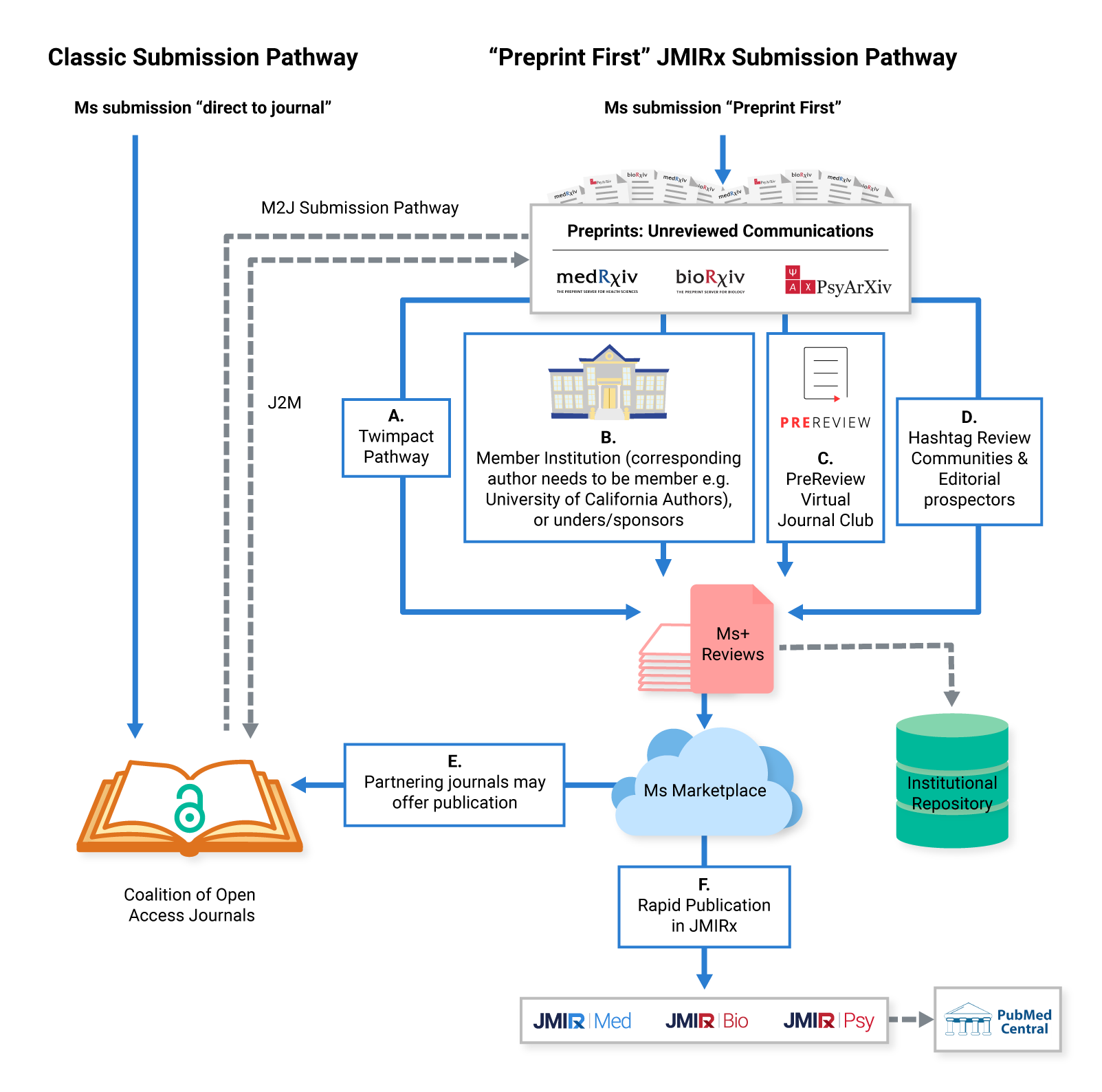 Starting in 2020, JMIR Publications launched the following superjournals:
In addition, manuscript submissions can be transferred from the JMIR preprint server and JMIR journals to JMIRx and vice versa.
JMIRx journals are all Diamond journals, funded by institutions and research funding agencies through Plan P (see below and http://planp.science). For example, authors of Plan P member organizations enjoy benefits such as priority peer-review of their preprints (pathway B in the diagram above), free publication in a JMIRx journal, and $1000 off the APC of a ethical "Plan P compatible" gold open access journal.
All JMIR journals (Portfolio) are compatible with Plan P as they also pick manuscripts from the JMIRx manuscript marketplace.
How to submit (tentative process)
To submit a preprint to JMIRx, the easiest way is to upload a Preprint to MedRxiv (or BioRxiv, respectively) and use the JMIRx submission forms on JMIRx.org, e.g. JMIRx-Med submission form (JMIRx-Bio submission form).
This "one-click" submission to a JMIRx superjournal takes only 3 minutes - we are sure this is the worlds' shortest submission form!
For detailed instructions and other submission options see How to submit to a JMIRx journal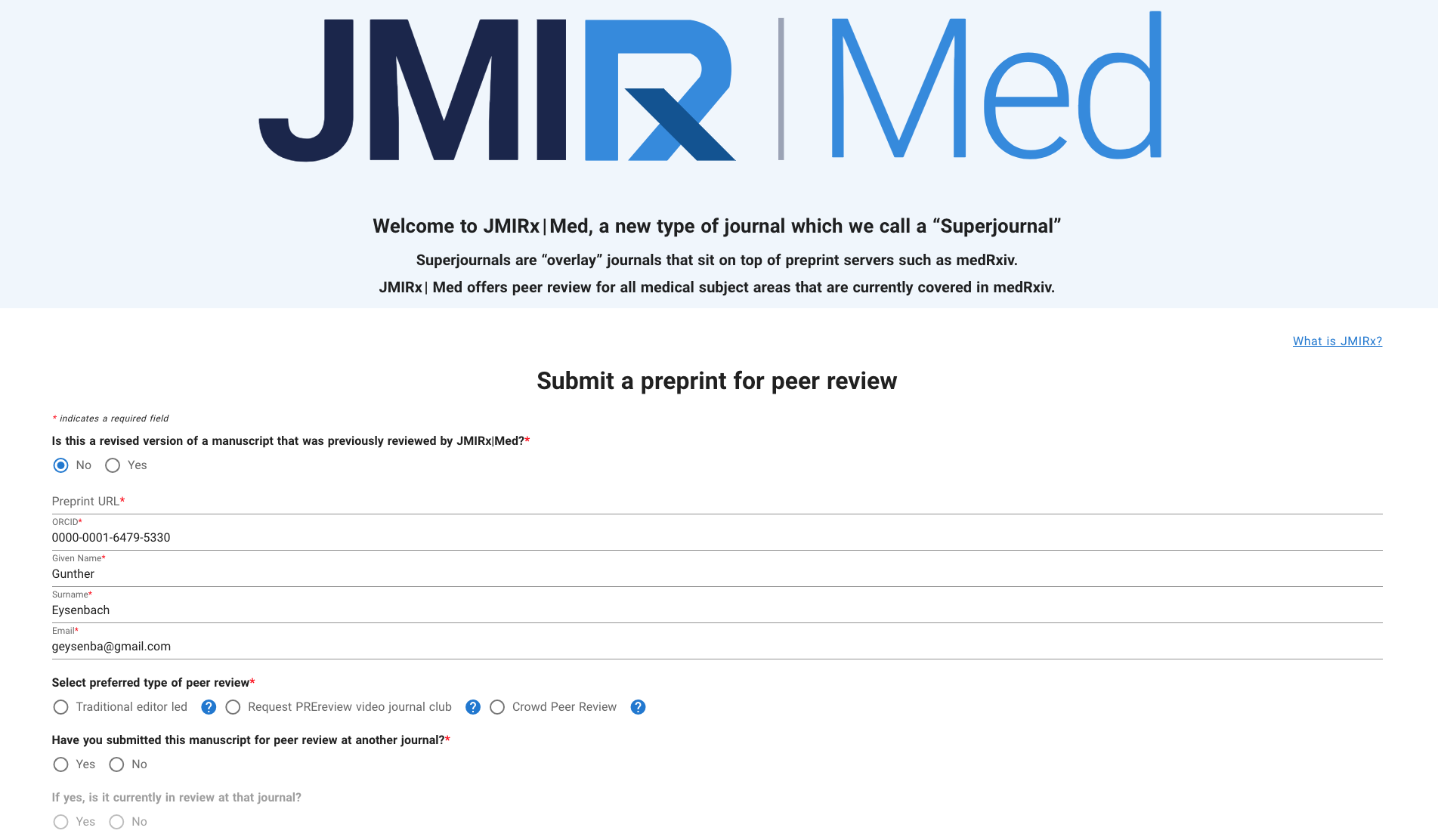 In the submission form, authors can select various modalities for peer-review, which include
Manuscript Marketplace: Transfer to other JMIR journals and Plan P compatible journals
After peer-review, a manuscript will be put on a manuscript marketplace and can either
We put manuscripts and their peer-review reports on a manuscript marketplace, which currently consists of all JMIR journals and journals from other publishers who joined the COAP coalition. Editors of these participating journals can make offers to publish the peer-reviewed papers in their journals, often with a significant discount, and often with minimal or no further changes required.
Publication in the JMIRx-series of journals is always the "fallback" (JMIRx journals will ultimately be indexed and have impact factors etc).
Library and national consortia partnerships
References:
2. Eysenbach G. The impact of preprint servers and electronic publishing on biomedical research.
Curr Opin Immunol. 2000 Oct;12(5):499-503
3. Eysenbach G. Challenges and changing roles for medical journals in the cyberspace age: Electronic pre-prints and e-papers.
J Med Internet Res 1999;1(2):e9. DOI: 10.2196/jmir.1.2.e9
4. Till J. Peer Review in a Post-Eprints World: A Proposal
J Med Internet Res 2000;2(3):e14 DOI: 10.2196/jmir.2.3.e14
5. Stern BM, O'Shea EK (2019) A proposal for the future of scientific publishing in the life sciences. PLoS Biol 17(2): e3000116. https://doi.org/10.1371/journal.pbio.3000116
See also:
For staff: