JMIRx (jmirx.org) is a new journal series (launched end of 2019) and new type of journal, which we call "superjournals" [1]. The first superjournal we have been launching is JMIRx-Med, which now published over 100 preprint peer-reviews, author responses, and accepted/published papers (they can be found at http://xmed.jmir.org). Our vision is to create a fully indexed journal series that can be used as a formal outlet for community-reviewed preprints and selected JMIRx papers are already indexed in PubMed and PubMed Central.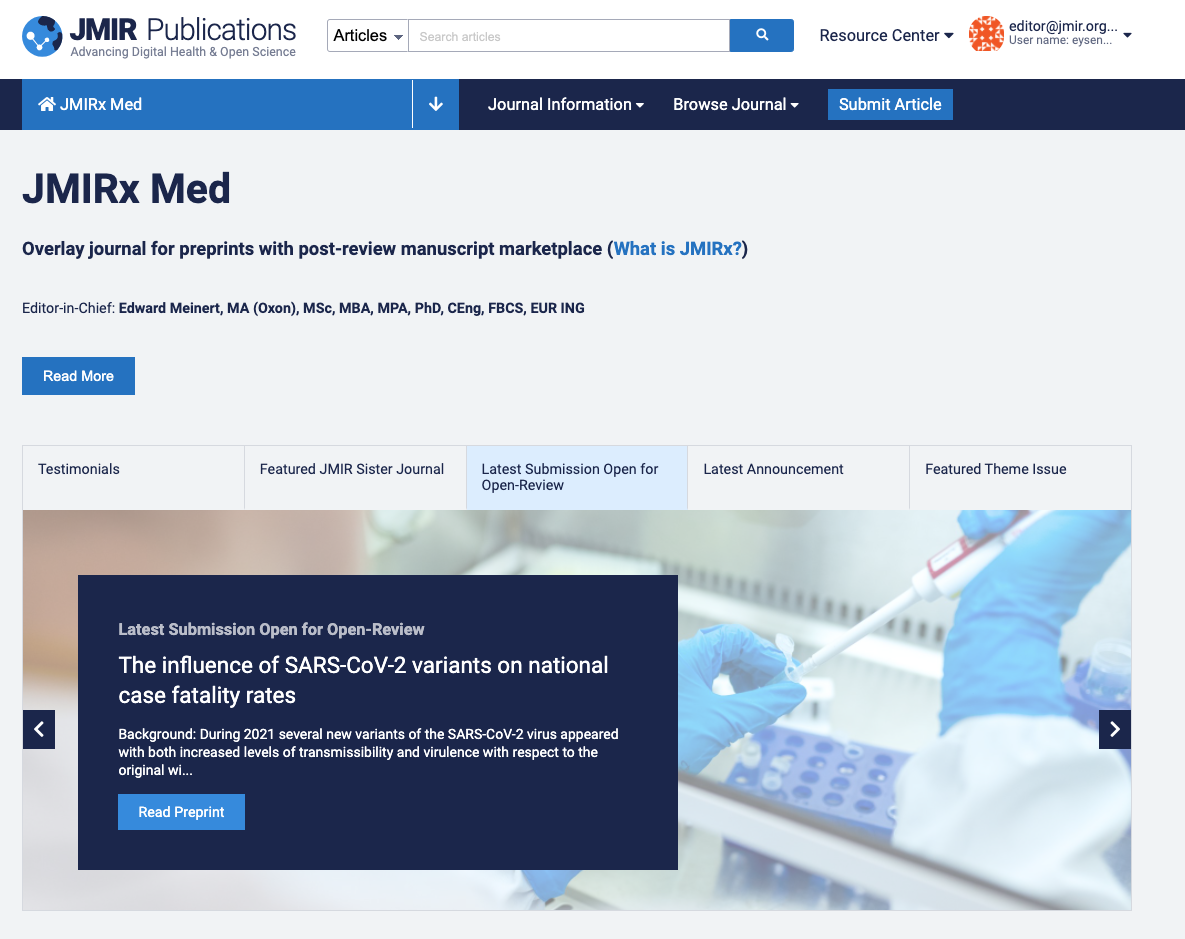 A Superjournal [1] (a type of "overlay" journal) is sitting on top of preprint servers and offers peer-review and copyediting/archiving/indexing, thus does everything a "normal" journal does, except that authors no longer have to submit their manuscript to a journal - instead, our community reviewers, acquisition and review editors find the papers they want to publish and extend conditional offers of publication to interesting articles published in Preprint servers, as well as soliciting reviews and commentaries. In addition to the "editorial prospecting" workflow, authors can also self-nominate their existing preprints for publication (which is the equivalent to a traditional journal submission), using a submission form that essentially only points to the preprint. Peer-review communities are alerted of preprints in their area of interest, and provide peer-review (see below for the different innovative models we are supporting). If reviewers ask for revisions, these revisions are also uploaded to the Preprint server.
We see this as the future of publishing, as predicted 20 years ago in the year 2000, when JMIR-founder Gunther Eysenbach proposed a "preprint-first" publication model [2]:
Researchers could submit type-1 electronic papers [non peer-reviewed preprints] to preprint servers for discussion and peer-review, and journal editors and publishers would pick and bid for the best papers they want to see as 'type-2 papers' [version of record] in their journal." [2]
This model also has been referred to as PRC (Publish - Review - Curate), with "publish" referring to publication of a type-1 publication (preprint) and "curate" referring to publication of a type-2 publication (peer-reviewed, version of record) in a journal (E or F in the figure below).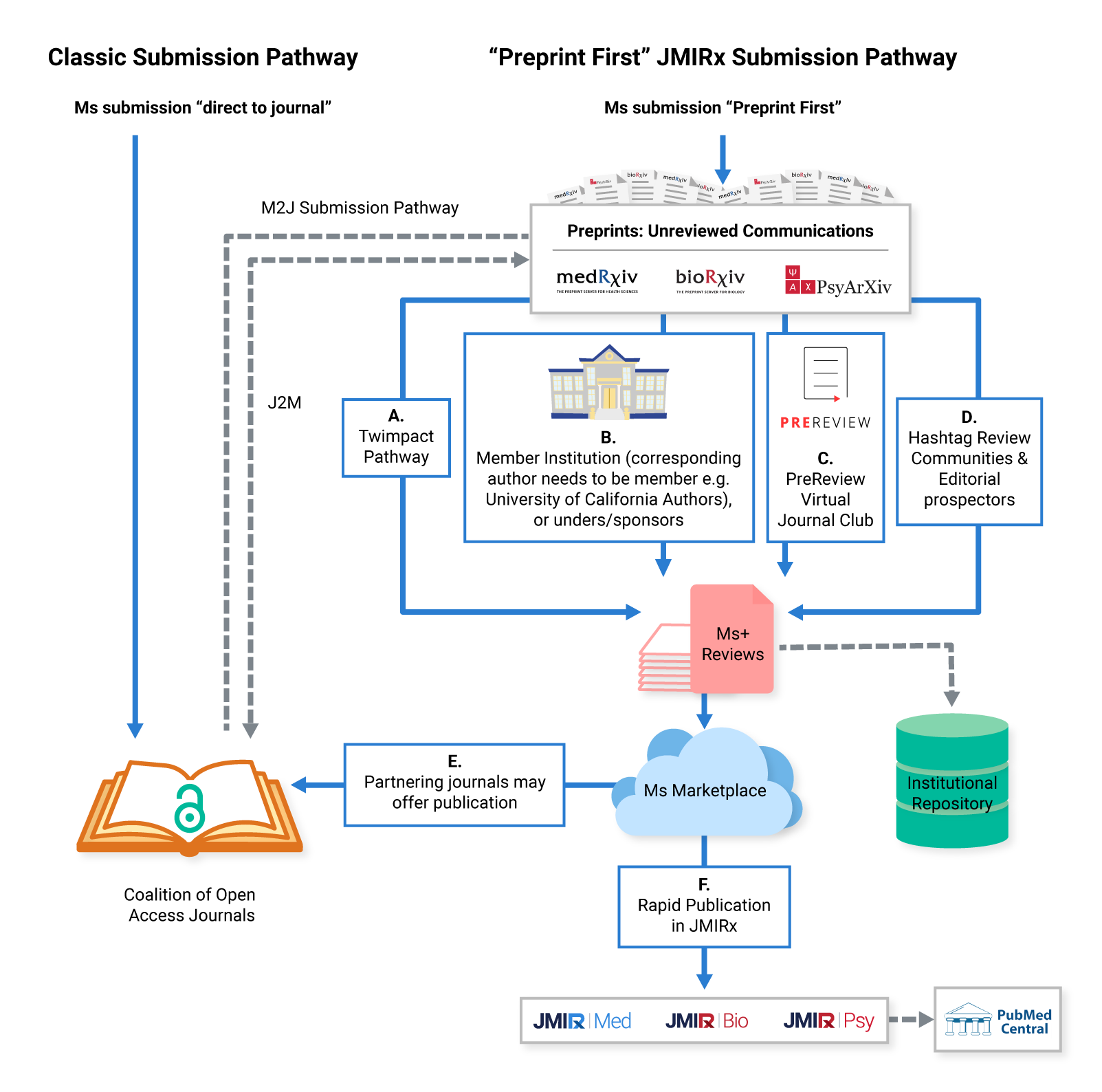 We are currently launching the following superjournals:
JMIRx|Med - sitting on top of the medRxiv preprint server and covering the subjects covered in medRxiv (launched 2020)
JMIRx|Bio - sitting on top of the bioRxiv preprint server and covering the subjects covered in bioRxiv (will launch in 2022)
JMIRx|Psy - sitting on top of the PsyArXiv preprint server and covering the subjects covered in PsyArXiv (will launch in 2022)
In addition, manuscript submissions can be transferred from the JMIR preprint server and JMIR journals to JMIRx and vice versa.
JMIRx journals are all Diamond journals, funded by institutions and research funding agencies through Plan P (see below and http://planp.science). For example, authors of Plan P member organizations enjoy benefits such as priority peer-review of their preprints (pathway B in the diagram above), free publication in a JMIRx journal, and $1000 off the APC of a ethical "Plan P friendly" gold open access journal. We call these ethical "Plan P"-friendly journals COAP (Coalition of Open Access Publishers). All JMIR journals (Portfolio) are compatible with Plan P as they also pick manuscripts from the JMIRx manuscript marketplace.
How to submit (tentative process)
To submit a preprint to JMIRx, there are three possible pathways (please choose only one of them!):
submit a Preprint directly to JMIRx via the JMIR submissions portal (and opt-in when you are asked to expose the submission on JMIR Preprints).
upload a Preprint to MedRxiv and use the JMIRx submission form
No more endless submission forms (what we are working on)
We are working on this: A "one-click" submission to a JMIRx superjournal, as easy as pointing our review communities to the URL of the Preprint, using the worlds' shortest submission form.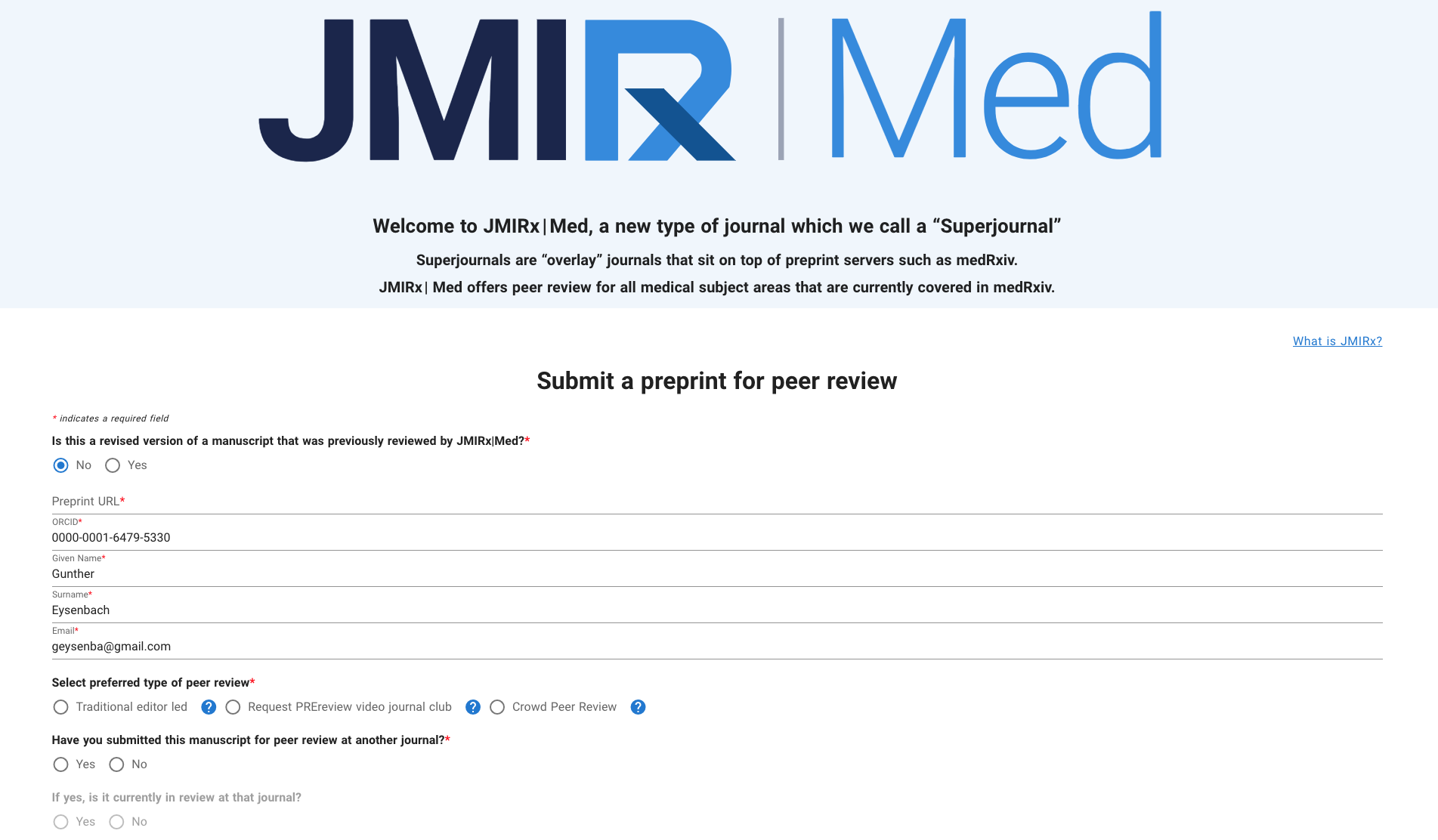 Innovative peer-review models
In the submission form, authors can select various modalities for peer-review, which include
traditional narrative review reports: The editor will try to find experts to review your preprint
annotation-based, crowdsourced reviews, using peer-review communities (forthcoming)

A live-streamed preprint journal club run in collaboration with PREreview, a videoconference session where experts and interested readers from all over the world join to provide constructive feedback to the manuscript, the transcript of which will form the basis for an author revision.
Manuscript Marketplace: Transfer to other JMIR journals and COAP (Coalition of Open Access Journals)
After peer-review, a manuscript will be put on a manuscript marketplace and can either
be rapidly published in JMIRx (accepted papers for JMIRx Med currently live on https://xmed.jmir.org/),
or be published in a COAP partner journal
We put manuscripts and their peer-review reports on a manuscript marketplace, which currently consists of all JMIR journals and journals from other publishers who joined the COAP coalition. Editors of these participating journals can make offers to publish the peer-reviewed papers in their journals, often with a significant discount, and often with minimal or no further changes required.
Publication in the JMIRx-series of journals is always the "fallback" (JMIRx journals will ultimately be indexed and have impact factors etc).
JMIRx as free alternative to already accepted submissions to JMIR journals
NEW (2020): If you have an accepted paper in any JMIR journal, and you previously published your submission on JMIR Preprints or a preprint server such as MedRxiv, we can now offer transfer and rapid publication free of charge in JMIRx. Please contact the editorial office if you are interested in that option.
Library and national consortia partnerships
JMIRx is a diamond journal. Authors must be affiliated with a Plan P member. Individual memberships are available.
We aspire to create more institutional memberships such as the University of California partnership, that enables faculty and students from all 10 UC campuses to publish free of charge in JMIRx (subject of reimbursement of US$1000 by UC for each article peer-reviewed and published in a JMIRx journal).
We call this "subscribe-to-peer-review / subscribe to Open Science" product "Plan P" (What is Plan P?). See also planp.science.
References:
2. Eysenbach G. The impact of preprint servers and electronic publishing on biomedical research.
Curr Opin Immunol. 2000 Oct;12(5):499-503
See also: