JMIRx (jmirx.org) is a new journal series (launched end of 2019) and new type of journal, which we call "superjournals". Superjournals (a type of "overlay" journal) are sitting on top of preprint servers and offer peer-review and copyediting/archiving/indexing, thus do everything a "normal" journal does, except that authors no longer have to submit their manuscript to a journal - instead, our acquisition and review editors find the papers they want to publish and extend conditional offers of publication to interesting articles published in Preprint servers, as well as soliciting reviews and commentaries. In addition to the "editorial prospecting" workflow, authors can also self-nominate their existing preprints for publication (which is the equivalent to a traditional journal submission), without going through another submission process. If superjournals ask for revisions, these revisions are also uploaded to the Preprint server.
We see this as the future of publishing, as predicted 20 years ago in the year 2000:
Researchers could submit type-1 electronic papers [non peer-reviewed preprints] to preprint servers for discussion and peer-review, and journal editors and publishers would pick and bid for the best papers they want to see as 'type-2 papers' [version of record] in their journal." [1]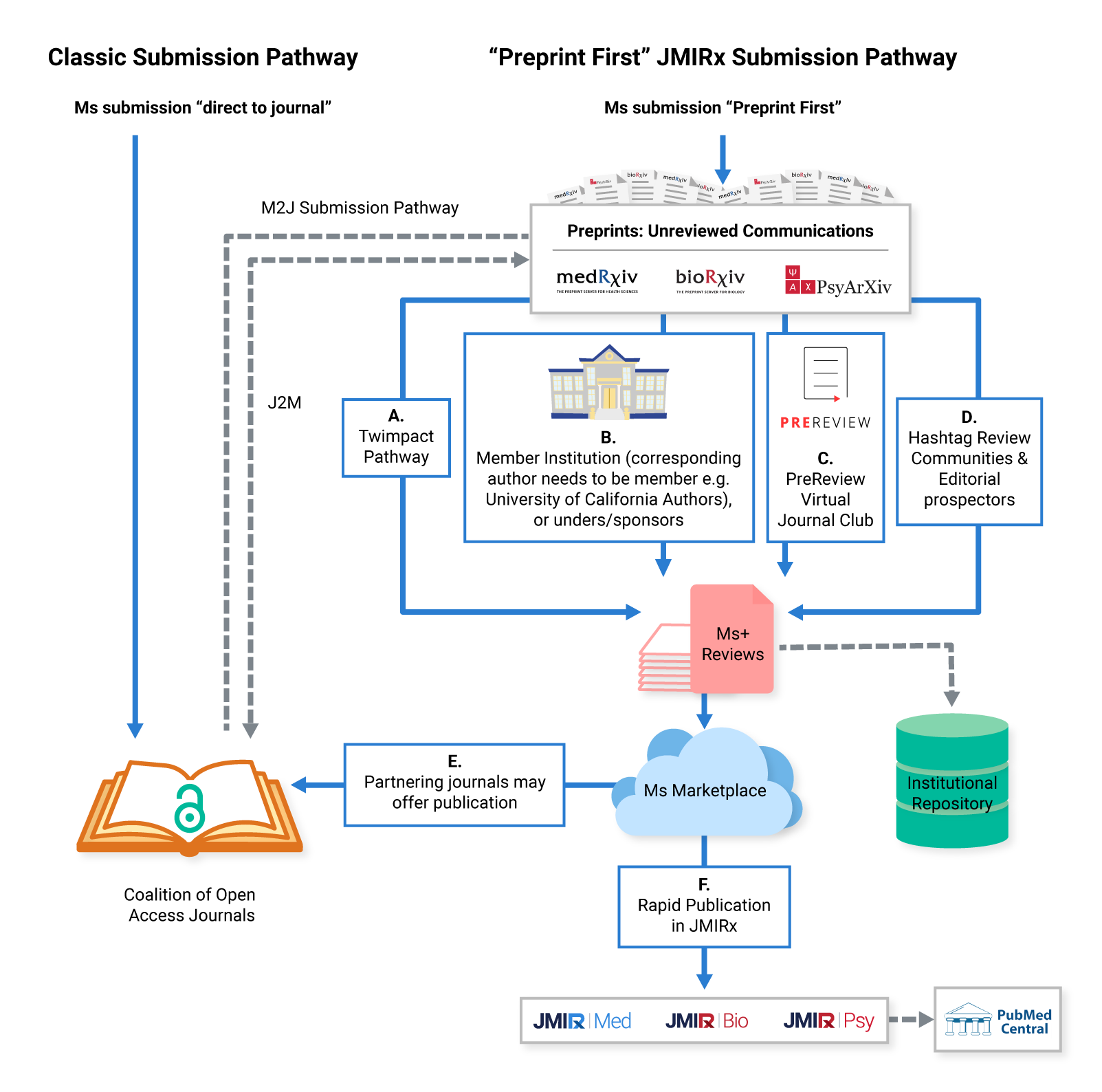 We are currently launching the following superjournals:
JMIRx|Med - sitting on top of the medRxiv preprint server and covering the subjects covered in medRxiv
JMIRx|Bio - sitting on top of the bioRxiv preprint server and covering the subjects covered in bioRxiv
JMIRx|Psy - sitting on top of the PsyArXiv preprint server and covering the subjects covered in PsyArXiv
In addition, manuscript submissions can be transferred from the JMIR preprint server and JMIR journals to JMIRx and vice versa.
JMIRx as free alternative to already accepted submissions to JMIR journals
NEW (2020): If you have an accepted paper in any JMIR journal, and you previously published your submission on JMIR Preprints or a preprint server such as MedRxiv, we can now offer transfer and rapid publication free of charge in JMIRx. Please contact the editorial office if you are interested in that option.
Library and national consortia partnerships
JMIRx is a diamond journal.
We do not charge authors.
We aspire to create more institutional memberships such as the University of California partnership, that enables faculty and students from all 10 UC campuses to publish free of charge in JMIRx (subject of reimbursement of US$1000 by UC for each article peer-reviewed and published in a JMIRx journal).
We call this product "Plan P". Subscribing to Plan P allows an institution to signal to faculty and students that a publication as preprint with rapid peer-review is encouraged and fully covered.
At a cost of only $1000 per article, publishing in JMIRx is cheaper than any other known Article Processing Charge (APC) of hybrid or legacy publishers. We can also deliver final copyedited/typeset papers to institutional repositories.
While publication under the JMIRx brand (in a JMIRx journal) is the most cost-effective publication venue, we also offer authors the possibility to publish in a "brand-name" open access journal. Through our manuscript marketplace, a peer-reviewed article can be transferred to a partnering journal (currently all JMIR journals, and members of the COAP consortium), with the $1000 covered by the Plan P subscriber institution subtracted from the Article Processing Fees. For example, if an article peer-reviewed under the JMIRx Plan P is picked by the editor for (for example) JMIR Cancer (APF $1500), the author has the option to publish the paper in JMIR Cancer for an additional APC of $500 (usually covered by grant money). For impact factor journals such as JMIR Mental Health or JMIR Serious Games or JMIR Medical Informatics, only an additional payment of $900 is required.
If you are a librarian and wish to arrange a Plan P subscription, please contact us at [support at jmir.org].
We challenge libraries to cancel subscription journals and redirect at least half of their budget saved by "big deal" cancellations towards "open access via preprints". Plan P provides and infrastructure and incentives for faculty and students to make their work open access while offering value-added services such as peer-review and long-term indexing.
References:
See also: