Yes. We advocate open science and have no issues with submissions that were previously posted on other preprint servers. We ask that you disclose this fact in the cover "letter" (comments to the editor when you submit). If you have any previous peer-reviews, please upload them as well.
M2JMIR
If you already submitted a preprint to MedRxiv, and it is not formally submitted to a journal yet, you can easily submit it to a JMIR journal using their submission interface as shown below. By default, you are submitting to J Med Internet Res, but you can change the target journal (see journal portfolio) in the JMIR submission form.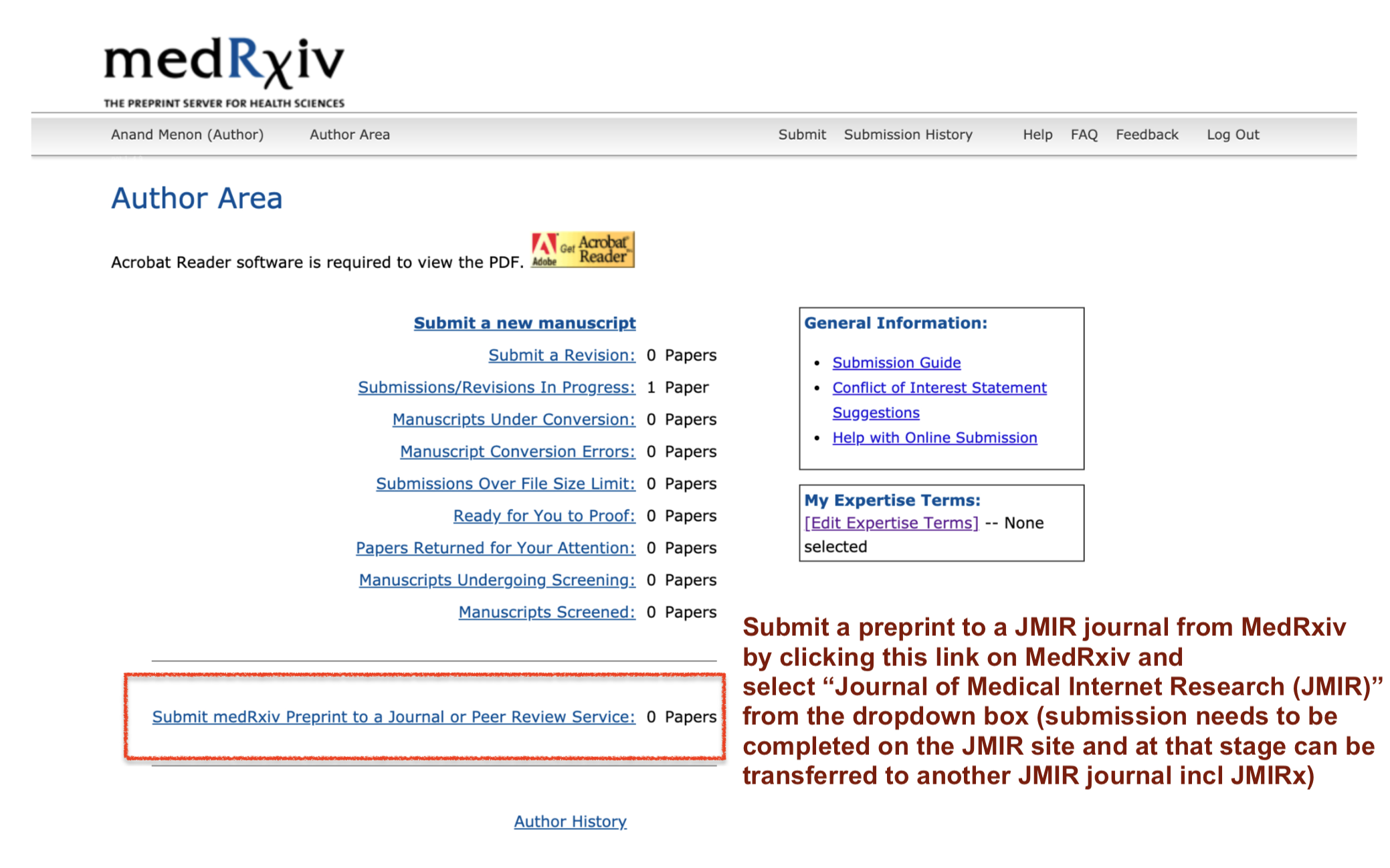 For full details on how to transfer your MedRxiv/BioRxiv preprint submission to a JMIR journal, see Submitting manuscripts from MedRxiv/BioRxiv to JMIR journals.
Using the JMIR Preprint server instead
However, our preferred pathway is that authors submit to a JMIR journal and opt-in to expose the submitted manuscript as preprint (possibly for open peer-review) immediately after submission, in which case we will create a preprint on http://preprints.jmir.org and assign a DOI to your manuscript, which essentially makes it a citable preprint which authors can cite for example in grant applications, and which will redirect to the published Version of Record if published in a JMIR journal or elsewhere (note that the paper will remain on the JMIR preprint server even after rejection).
Keep the number of Preprints to a minimum
While nothing stops authors from posting their manuscripts on every preprint server on the planet (even after publication), authors should keep in mind that after their paper is published, they want readers to find and cite the final published version (version of record), and also make sure they cite the most recent version. While we can assure proper linking to the VoR for papers posted on our JMIR Preprints server (we even link to other journals, if the papers ends up being published somewhere else), we obviously have no control over third-party preprint servers, and whether or not they will link to the "version of record" or update their citation information. Wrong citations will have an impact on your h-index and other citation metrics. We know that BioRxiv/MedXriv make efforts to link to the published VoR, but this is not the case for all Preprint servers.
In addition, posting preprints on the JMIR Preprint server may help with peer-review, as it is an additional tool to recruit formal peer-reviewers.
See also: