"Open peer-review" has at least two different meanings (and both have been pioneered by JMIR Publications).
The first is "transparency". At JMIR Publications, this means that peer reviewers who participate in the peer review process are not anonymous. This is the default and authors or reviewers cannot opt-out (with rare exceptions, see Will I stay anonymous as peer-reviewer?). Since JMIR Publications' founding in 1999, peer reviewers have been acknowledged at the end of a published manuscript by name (although in the case of rejection, they remain anonymous).
The second meaning of openness is that open peer review is open to anybody who wishes to participate (see also http://preprints.jmir.org/2015/1/e1/). We now also call this Open Community Peer-Review. JMIR Publications has always aimed to be a leader in applying openness, participation, collaboration, and since December 2009, has offered participatory open peer review by enabling any interested user to sign themselves up as a peer reviewer for submitted articles that are currently under consideration by a JMIR Publications journal and which the author has made available for open peer review.
NOTES:
Submissions that undergo open community peer review also undergo the usual peer review process by author-nominated and editor-selected reviewers. We rarely rely on community reviewers alone.
The reviews themselves are currently not open. Only the editor (and author) sees them, not other readers or reviewers (at a later stage we may give the author more control over this).
Submissions currently undergoing open peer review at JMIR Publications are hosted on the JMIR Preprints server, because most authors who choose open peer review also choose to publish their submission as a preprint. For a complete list of all submissions undergoing open peer review across all JMIR journals as well as partner journals, see JMIR Preprints (see also What are JMIR Preprints?).
The abstracts and articles on JMIR Preprints are unpublished studies - please use them with caution. If you wish to cite them/wish to see them published, write your opinion in the form of a peer-review!
You can also find new submissions undergoing open peer review when you follow us on Twitter.
For Authors: how to choose open community peer review for your submission
During the submission process (see also Where/how do I submit my paper to a JMIR journal?), authors are presented with an option to have their submission under go open peer review. Note that only the title, abstract, and author(s) are displayed to the public; users who wish to participate as open peer reviewers must log in to view the submission PDF and choose to review it. That said, if an author also chooses to publish their submission as a preprint, they will have the option of making their preprint PDF available for public viewing.
Advantages of open community peer review and preprints
Open peer review and preprints have several advantages for authors:
Papers that undergone open peer-review may have slightly more positive reviews (perhaps because the reviewers signing up for a particular paper may have a stronger interest in the paper's topic and therefore to see it published).
The turnaround time (time from submission to decision) may be improved, because more reviewers sign up.
The NIH, UK MRC, and other organizations and societies encourage investigators to use interim research products, such as preprints, to speed the dissemination and enhance the rigor of their work. For example, since April 2017, the MRC has explicitly encouraged the inclusion of preprints in publication lists for grant and fellowship proposals (MRC Application Guidelines). This means that JMIR Publications authors do not necessarily have to wait for an editorial decision after submitting to a JMIR Publications journal to cite a manuscript; they can now cite submitted preprints by simply opting into open peer review, as this automatically generates a citable preprint (see also What is a preprint?).
Preprints will get a DOI-link and are citable immediately after submission (e.g. in grant proposals etc.). If the paper is published later in a JMIR journal, the DOI-link will redirect to the final, published article.
For Potential Reviewers
The list on the page Latest Submissions Open for Peer Review shows recently submitted articles for which submitting authors have opted into open community peer-review and the editor has not yet made a decision. (Note that this feature is for reviewing specific articles; if you just want to sign up as reviewer and wait for the editor to contact you if articles match your interests, please sign up as reviewer using your profile. See also How can I become a peer-reviewer and what are the qualifications required?).
To assign yourself to an article as a reviewer, you must have a user account on the JMIR site (if you don't have one, register for a free account here) and be logged in (please verify that your email address in your profile is correct).
Add yourself as a peer reviewer to any article by clicking the 'Peer-review Me' link under each article. Preferably, select articles where this is printed in red, as this indicates that this article currently needs more peer-reviewers (see screenshot below). Full instructions on how to complete your review will be sent to you via email shortly after. If you want to see the peer-review form in advance, see How does the JMIR peer-review form look like?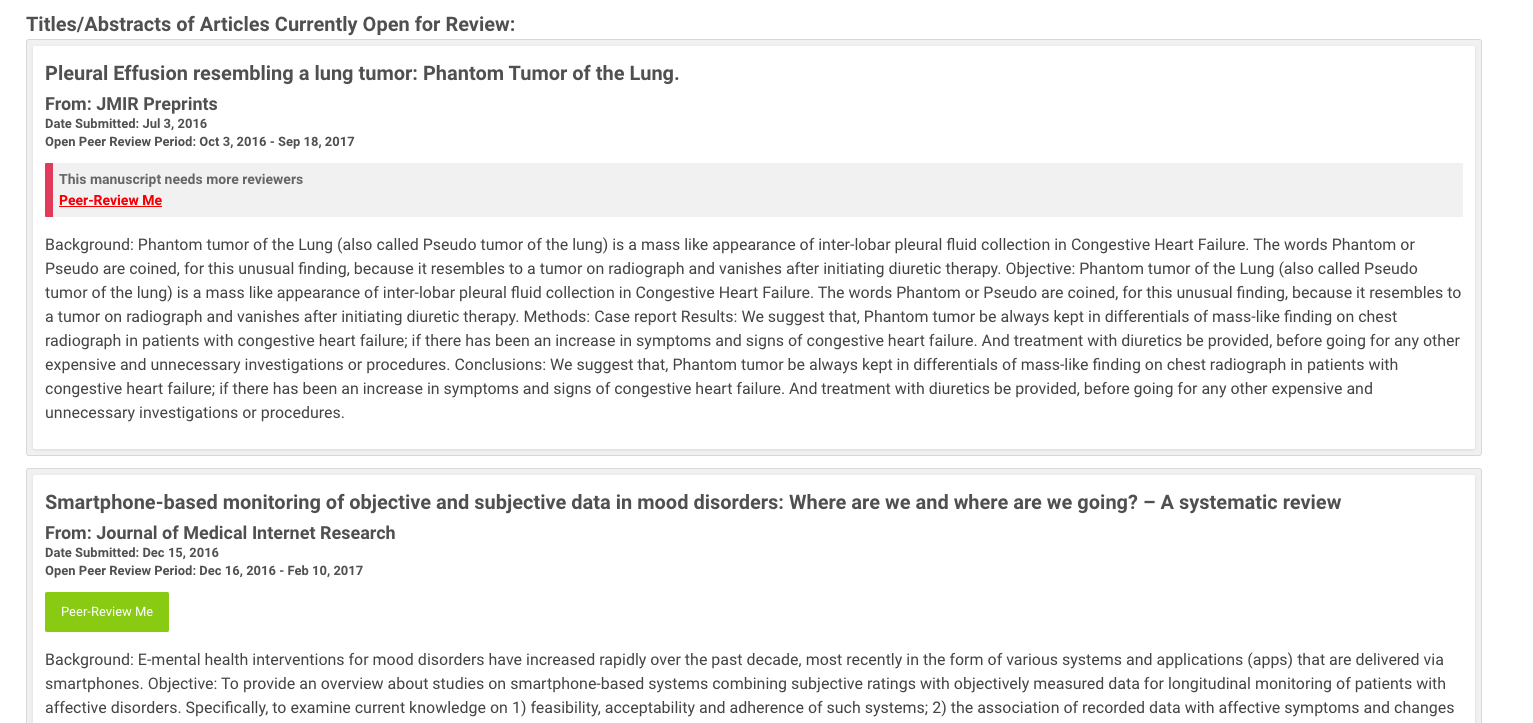 NOTE: Do not sign up as peer-reviewer if you have any conflicts of interest (note that we will treat any attempts by authors to sign up as reviewer under a false identity as scientific misconduct and reserve the right to promptly reject the article and inform the host institution).
The standard turnaround time for reviews is currently 2 weeks, and the general aim is to give constructive feedback to the authors and/or to prevent publication of uninteresting or fatally flawed articles. Reviewers will be acknowledged by name if the article is published, but remain anonymous if the article is declined.
See also: