Authors sometimes have to meet publication deadlines, e.g. for promotion & tenure, thesis defence, grant proposals, spending of research funds before a certain deadline, publication of follow-up papers, or because the findings are deemed important.
To facilitate a speedy turn-around when a rapid decision is required, JMIR offers a fast-track review and publishing track, which aims at reviewing and publishing extra-fast without compromising quality. While some types of papers are sometimes prioritized due to public health need (See also: Are COVID-19 papers automatically fast-tracked or do I have to pay for that?), we offer a paid pathway where a fast-track submission fee is paid to guarantee a short turnaround.
If you opt for fast-track review and premium publishing, you are guaranteed:
A rapid editorial decision for the 1st review round (and if sent out for peer-review) peer-review comments within 20 business days (4 weeks excluding holidays within that period)* after submission and payment of the fast-track fee (FTF), and
If the final paper is accepted, publication of your paper within 4 weeks** after acceptance and APF payment.
Due to the expedited timelines, it is imperative that we receive an immediate response to any queries to the authors during the triaging and peer review process. We also suggest that authors provide 3-5 author-suggested reviewers at the time of submission (as with all papers, none of the suggested reviewers should have any conflict of interest that would make them inappropriate to review the FT paper).
Review timelines after round 1: Although we aim for fast turnaround times in subsequent reviews, the decision time in round 2 and higher depends on various factors, so we cannot guarantee a timeline for those.
In order to take advantage of this, authors must pay a non-refundable* FTF of $450, on top of and in addition to any other submission/publication fees (see Fee Schedule).
*We DO refund the FTF if we are unable to find a reviewer and make a decision within the promised time. In these scenarios, we ask the author if they want to convert the paid funds to prepaid credits, that can be used later as FT fee or Article Processing Fees.
We DO NOT refund or credit the FT fee if
- we make a quick reject decision, even if it is without peer-review (desk reject)
- if the author withdraws the submission
- if the author submits a incomplete manuscript that is not ready to be sent out for peer-review
Fast-track should be requested within 24 hours after submission, but we also allow authors to expedite the submission at any time during the peer-review process.
Some fine print:
Paying a fast-track fee does not guarantee peer-review. While we rarely reject manuscripts without external peer-review (known at other journals as editorial "desk-review"), we reserve the right to reject the paper promptly and without external review if the paper is out of scope or has obvious flaws, and we will not refund the FTF as long as this decision is made within the promised 4 weeks (20 business days).
The fast-track fee is not refundable under any circumstance, even if we reject the paper (with or without peer-reviews) in the time period stipulated above.
We reserve the right to credit/refund the fast-track fee and process the manuscript in the regular submission track if we are unable to meet the deadline due to failure to find peer-reviewers or other issues for which we have to assume responsibility.
Bank holidays (US, Canada, Europe) are added to the 4 weeks. Also, note that the JMIR Office shuts down annually between Dec 23-Jan 2nd and these days do not count towards the 4 weeks.
To fast-track (expedite) a submission, follow the link in the submission acknowledgment email, or go to your author manuscript center and look for the "expedite now" link next to your submitted manuscript title (see screenshot below).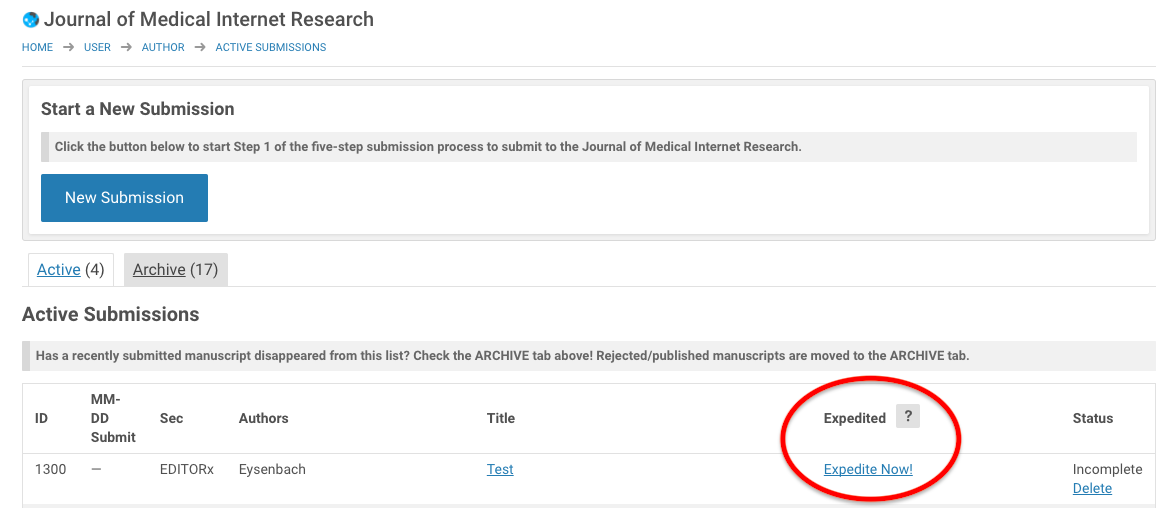 Footnotes:
* Canadian, US and European bank holidays, and excluding the days in the period between Dec 23rd - Jan 1st (of each year).
** Not including the period between Dec 23rd-Jan 2nd. Days where we wait for a response from author(s) to copyediting or proofreading requests are also not counted.
----------------------------------------------------------------
Tip:
Are you looking for a rapid decision because you wish to cite your work in a grant proposal?
Note that formative work, in-progress work, pilot studies, methods, and protocols should preferably be submitted to JMIR Research Protocols (Why should I publish my protocol or grant proposal?).
----------------------------------------------------------------
Related: