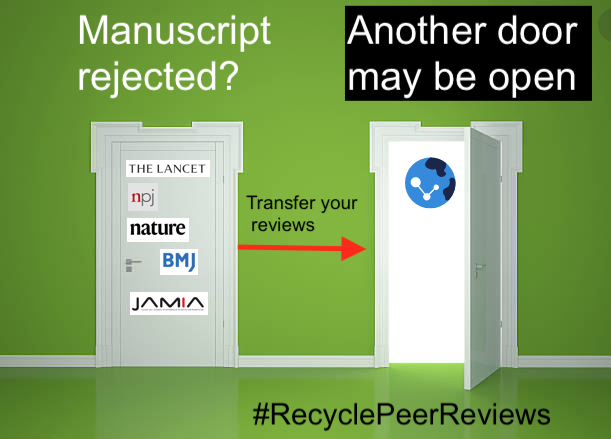 Peer-reviewers in the USA alone donate over 500.000 hours of free peer-reviews to the scholarly communication system - at a cost of about 1.5 Billion Dollars per year (Akzel 2021). A considerable proportion of this number is from rejected and resubmitted papers. Often, very selective journals send out papers for peer-review, but end up rejecting submissions not because the paper has scientific flaws, but because it is not deemed "interesting enough". JMIR Publications is recognizing that peer-reviews in these cases (and the efforts authors made to improve the manuscript) are still valid and should be recognized by the next journal the manuscript is sent to - potentially even to a degree that the paper will not be sent out for peer-review again.
JMIR Publications is piloting a program where we encourage authors with papers that were submitted to other journals and rejected after peer-review to attach the peer-reviews (PePR program - pre-existing peer-reviews). The accompanying social media campaign is using the hashtag #RecyclePeerReviews and #PortablePeerReviews to promote this program.
The program is particularly suitable for manuscript that were submitted to and went through rounds of peer-reviews at high-impact journals of other publishers (non-JMIR journals*) and that ended up being rejected for reasons that are not related to the validity of the research, e.g. lack of impact or priority. Many of these papers may be suitable for JMIR journals such as JMIR Formative Research, and could potentially be accepted on the basis of existing peer-reviews, without going to new reviewers.
Authors of papers rejected at non-JMIR journals interested in participating in PePR and get their paper published without additional peer-review are invited to submit a a pre-submission inquiry using this form, attaching all previous peer-reviews and editorial comments. Our editors will check each submission on a case-by-case basis and state which JMIR journal the manuscript may be suitable for, and whether or not it will require additional peer-review.
All JMIR journals (see portfolio) participate in this program, but the decision rests with individual editors. The primary venue to publish articles under PePR is the Interactive Journal of Medical Research, which has a permanent section (PePR) to which medical articles with existing peer-reviews from all specialties can be submitted to.
We appeal to the authors to disclose all existing peer-reviews and editorial , and present them in an unedited manner, under the academic honor code. Cases of fabricated or edited peer-reviews will be treated as peer-review fraud and academic misconduct.
-------------
*JMIR authors always have the option to transfer manuscripts to other journals within the publisher, so this is not part of the PePR program, which focuses on cross-publisher recognition of the peer-review process