JMIR Publications is now using Hellosign to send License to Publish forms to authors, for a select list of manuscripts. We hope to implement this process for all manuscripts in the future, after the beta phase roll-out. If a manuscript has not been selected for the Hellosign version of the form, authors should complete the traditional License form process, which can be viewed here: Where can I find the publication forms for authors (license to publish, copyright forms) and where do I submit/upload the signed PDF?
If a manuscript has been selected to receive the Hellosign version of our License form, we request that each author completes the signatory process at their earliest convenience.
Upon acceptance of the manuscript, each author listed in the manuscript's author list will receive an email from noreply@mail.hellosign.com. This email will contain a link to the Hellosign version of the License form. It is therefore important that each author's email address is correct in the manuscript's metadata (preferably, this is confirmed by the submitting user upon initial submission of the manuscript).
Authors should verify that the License form contains the correct manuscript information (i.e. title, manuscript ID number, corresponding author, and author list). This information is pre-populated from the manuscript's metadata information.
Authors should then read through the document to ensure that they agree with it.
Note: authors will not have to sign over copyright to JMIR as we are an open access journal. Signing this License form will confirm that you agree to allow us to publish it under a Creative Commons License. The form also certifies that you own the copyright, and that all conflicts of interest are declared.
At the bottom of the form is the signatory section. Authors will be required to fill out necessary information in the section with their name detailed. The information required is (1) a confirmation as to whether they have a Conflict of Interest (Note: this field is mandatory, if the author has no COI they should enter "N/A"), (2) a digital signature confirming that they agree with terms of the License form.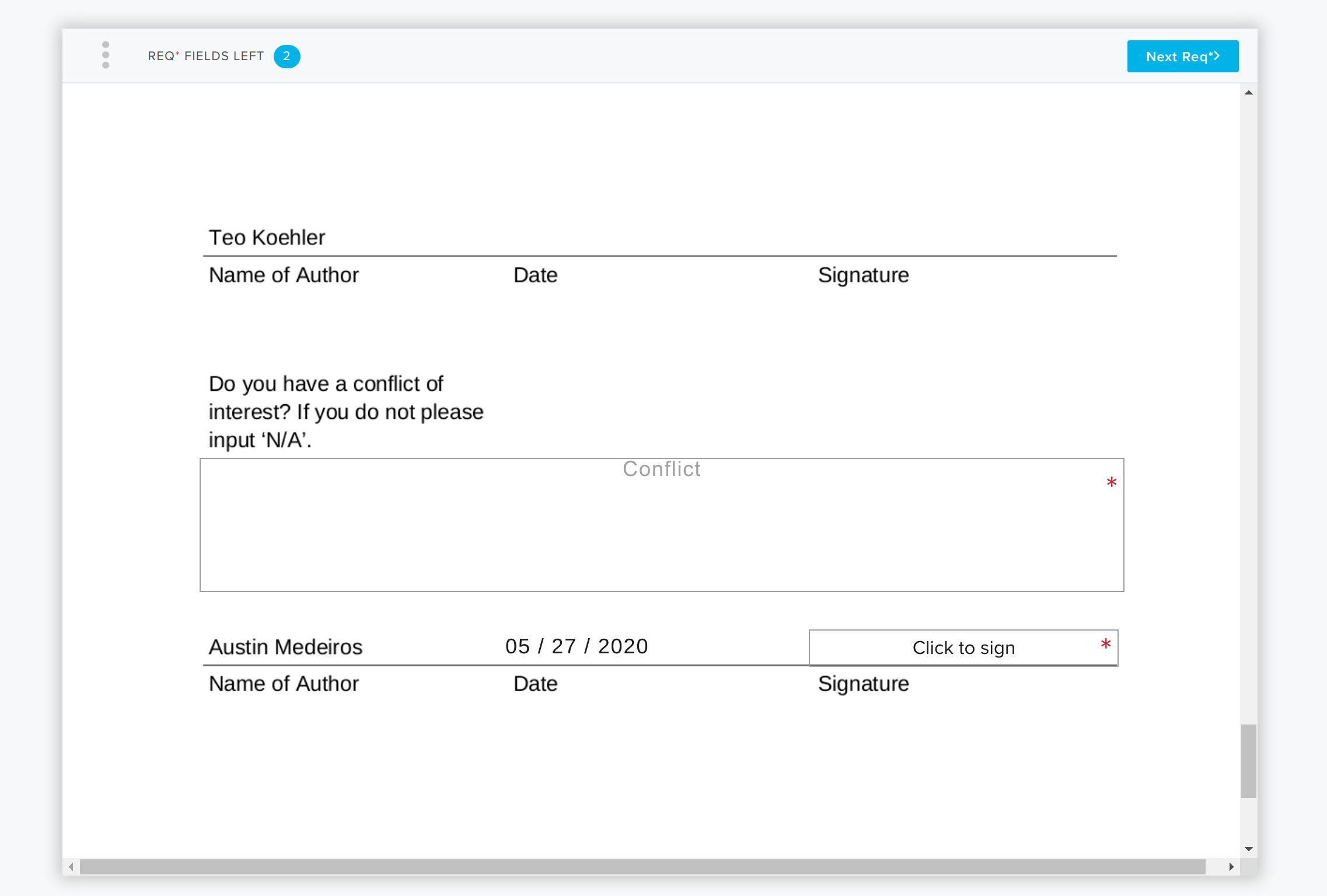 Once this information has been input, authors should scroll to the top of the form and click "I agree". This will finalize the signing and send the License form back to JMIR Publications (the option to "Agree" will only be available if all required fields have been completed).
Once completed, a confirmation message will display. A copy of the document will also be sent to the author.

Reminders will be sent by Hellosign to individual authors that have not yet completed the signing process. Additional reminders will also be sent during the proofreading stage by the paper's Production Editor.