JMIR Publications follows the widely used AMA Manual of Style.
JMIR Publications employs professional external copyeditors (What are the steps during copyediting? and What are the authors' responsibilities during copyediting?) to bring articles into this style, so authors do not have to worry too much about the style on initial submission, although it does shorten the production process after acceptance if the article is roughly in AMA Style, and it helps us to find reviewers if the references are properly formatted and have PMIDs.
For details on editorial style guidelines, please see: JMIR's editorial guidelines
For some hints on key elements of AMA Style see below.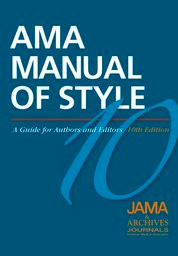 Knowledge Base articles:
External Link: