Absolutely not.
There is a great team of fantastic people behind JMIR Publications, who are motivated to do the right thing.
If you are upset that we have to charge authors, then perhaps voice your concern with your university librarian, who pay millions of dollars for subscriptions and "big deals" with legacy publishers. They need to know that you are interested in publishing in JMIR as it is the researchers and doctors who are pressuring their libraries to have certain prestigious journals subscribed. These other publishers (which we would call predatory!) bundle them with other journals nobody wants to read. Librarians now sign "transformative agreements" which are not really transformative. The TA's cover the costs for publishing in these new OA journals - sometimes at the cost of setting up a generic institutional Open Access Fund (some universities provide central funding for APCs, but many don't have the budget).
If you do not like APCs (and we also don't), then please ask your librarian (or national library consortium) to negotiate an institutional or national deal with us. We are a niche publisher striving for quality, not quantity. Not only in the quality of what we publish, but also how we publish, how fast we publish, and how we treat our authors - namely as colleagues.
Don't take our word for it. See what our authors are saying - e.g. SciRev comments or on Twitter or (maintaining a 5 star rating average with over 200 reviews) on Google.
Unlike some of our fellow pioneers in open access, targeted by Beall's attacks on emerging leading OA publishers, JMIR Publications or its journals was never on Beall's list of "potential, possible, or probable predatory scholarly open-access publishers" (as an aside, the controversial list is no longer available since 2017, but here is a cached version of the list). Beall dislikes successful and ethical open access publishers, as it conflicts with his world-view that open access is a "anti-corporist" socialist invention and undermines science, see Beall ranting against Open Access.
Our peer-review is sound and our author satisfaction is high (see e.g. SciRev comments). Our fees are transparent (Are there costs involved in publishing in JMIR journals, what are your fees?) and reasonable (see How does the Article Processing Fee (APF/APC) at JMIR compare to other journals/publishers?). We fairly share our profits with those who do the work, e.g. academic reviewers and editors.
As we explain in this document, JMIR does not fulfill a single criterion of a predatory publisher.
In our 20 years of experience in publishing (and one of the pioneers of open access, and co-founder of OASPA), we never had to retract a paper. While a low industry standard is about 1 retraction in 2000 papers, our retraction rate is 0. In the Bohannon / Science "sting operation", where a fake low-quality paper was sent to multiple OA journals to identify "predatory" publishers who bypass peer-review, JMIR - of course - did not accept or even consider the paper. It didn't even enter the peer-review stage because it was deemed out of scope.
There is sound evidence and metrics to show that JMIR Publications is a leading publisher in the eHealth domain. eHealth is the intersection between technology and medicine, and JMIR Publications is a mission-driven (rather than profit driven) publisher, which has been publishing many high-quality pioneer journals and seminal articles in that space.
We offer a full refund of any fees you paid if we did not adhere to any of our or third party policies for scholarly publishers (COPE, OASPA, ICMJE). If you have any concerns about our policies or practices, please file a ticket with JMIR support by sending an email to support@jmir.org, and we will try to address or amend the situation.
JMIR Publications is one of the fastest growing companies in Canada, according to Macleans' Magazine and Business Insider. The Growth500 profile article below explains our beginnings and success factors.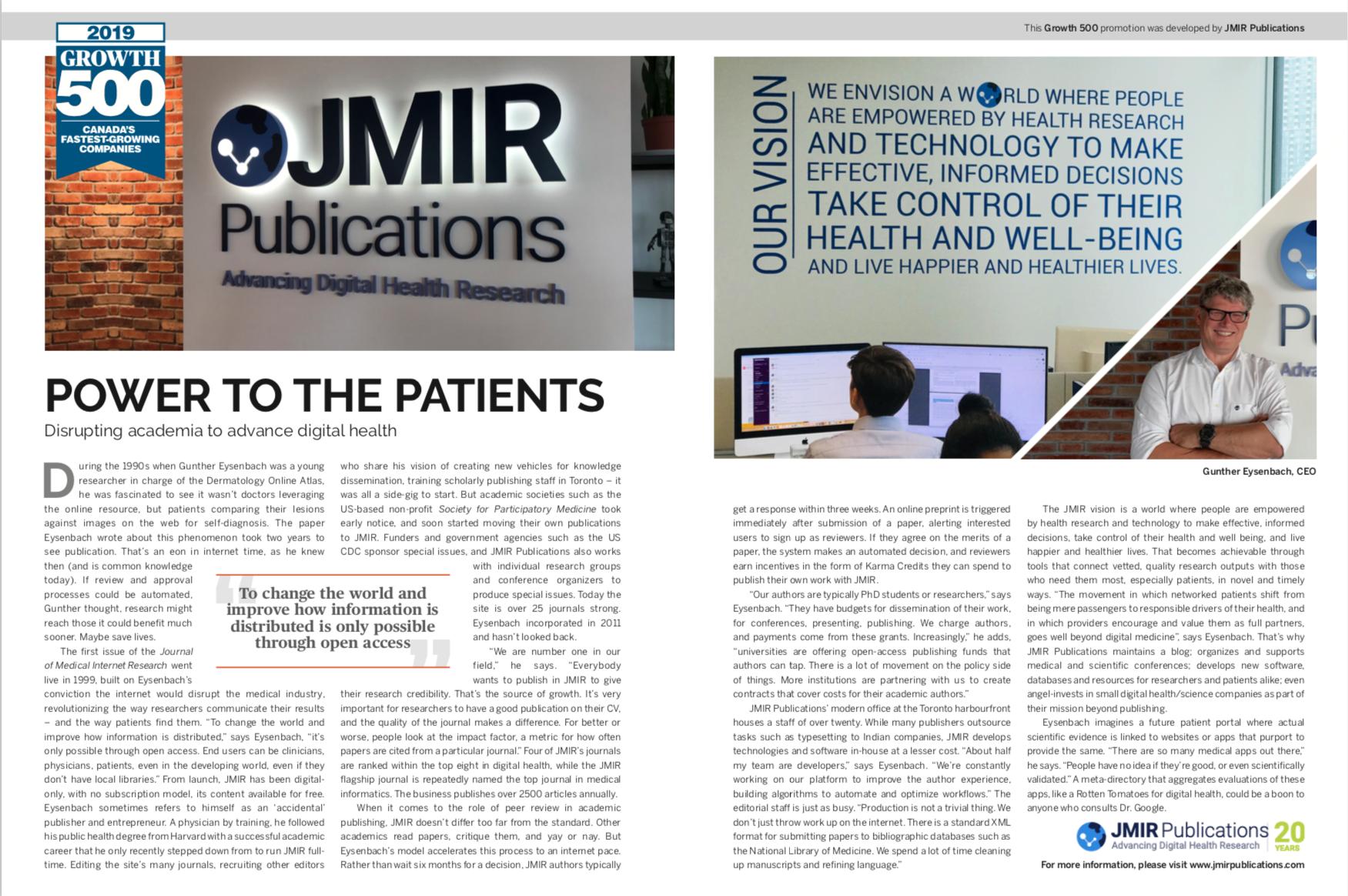 See also: