New process launched March 2017 for authors to request a revision deadline extension
The deadline for submitting a revised manuscript is provided in the editorial decision email (see also I am an author - where can I find the past reviewer comments?).
After an editorial decision B (minor revisions) or C/D (revisions/ major revisions required) has been made, authors usually have 2 weeks (B) or 8 weeks (C/D) to submit responses to reviewers and the revised version (see also How do I respond to reviewer comments and upload a revised manuscript?). If we do not receive a revision within this deadline, we may remove the manuscript from the submission queue, although we would prefer a more explicit withdrawal request if authors do not plan to submit a revision (see How do I withdraw a submitted (but not published) article from peer-review?).
Since March 2017, authors can now request an extension of the revision deadline, by a maximum of 3 months (after the original deadline), using the revision upload form.
The extension request is made on the form where you would submit your revision (click on the link "awaiting revision" on the author homepage), as shown in the screenshot below.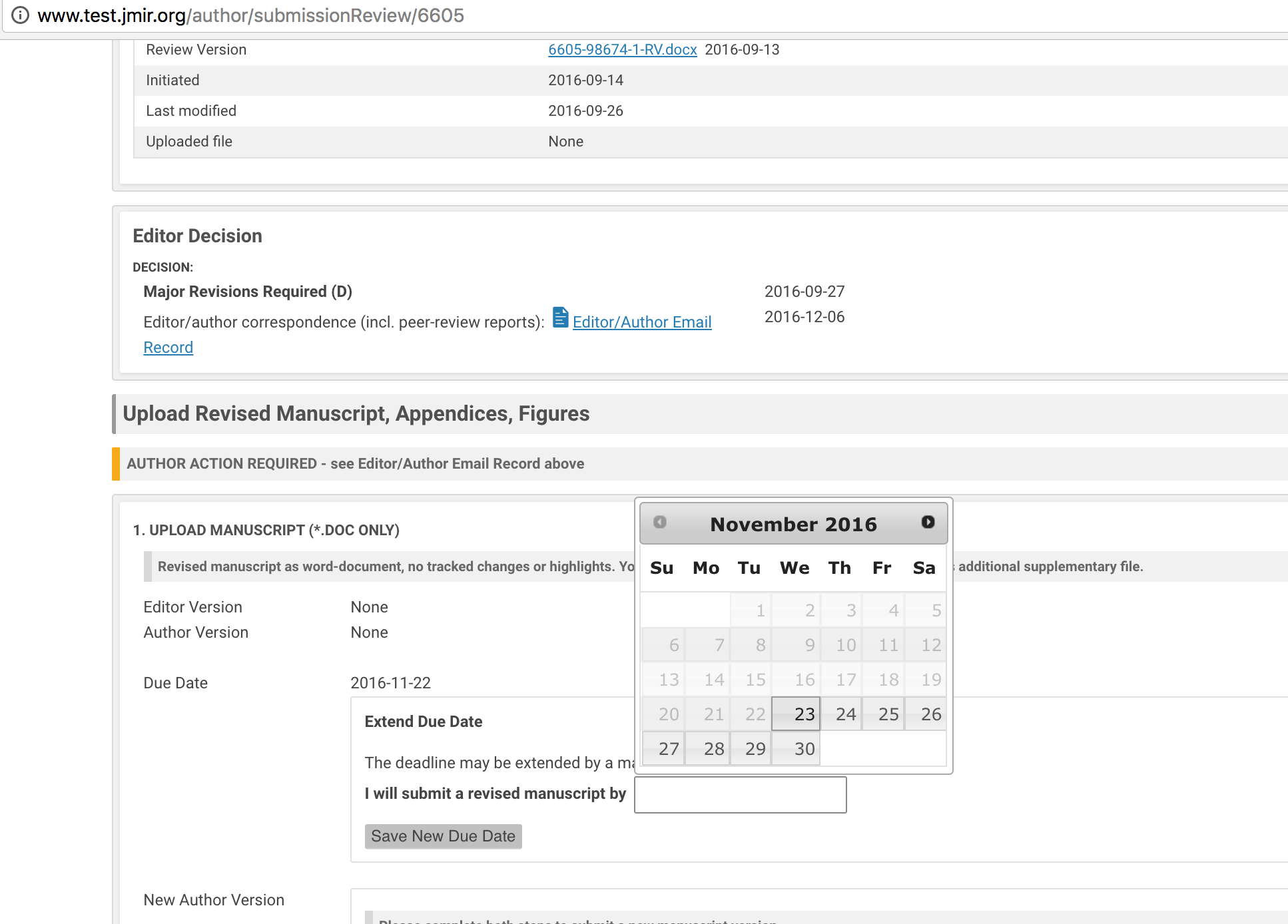 See also:
Old process (pre 3/2017) and process if you need more than 3 months (in exceptional cases only):
To request an extension, please notify the editorial team by following these steps :
Login to your JMIR account.
Click on "Author" under the "Roles" section.
On the resulting page, "Active submissions", click on the title of the article for which you would like to leave a note to the editor.
This will take you to a page with 3 tabs at the top. Click on the "Review" tab and scroll down to the very bottom of the page to section 5 where you will see a link titled "Notify Editor". Here you may send a message to the editor requesting an extension.
After you have submitted your extension request, a member of the editorial team will confirm the extension and the new due date for your revisions in an email message through the JMIR system. However, even if you don't get a confirmation, you should assume that we have granted the deadline extension request.
*Please remember to always use the JMIR system email for all editor/author communications. This optimizes our service to you by ensuring that all relevant communications regarding your paper are kept on file.*