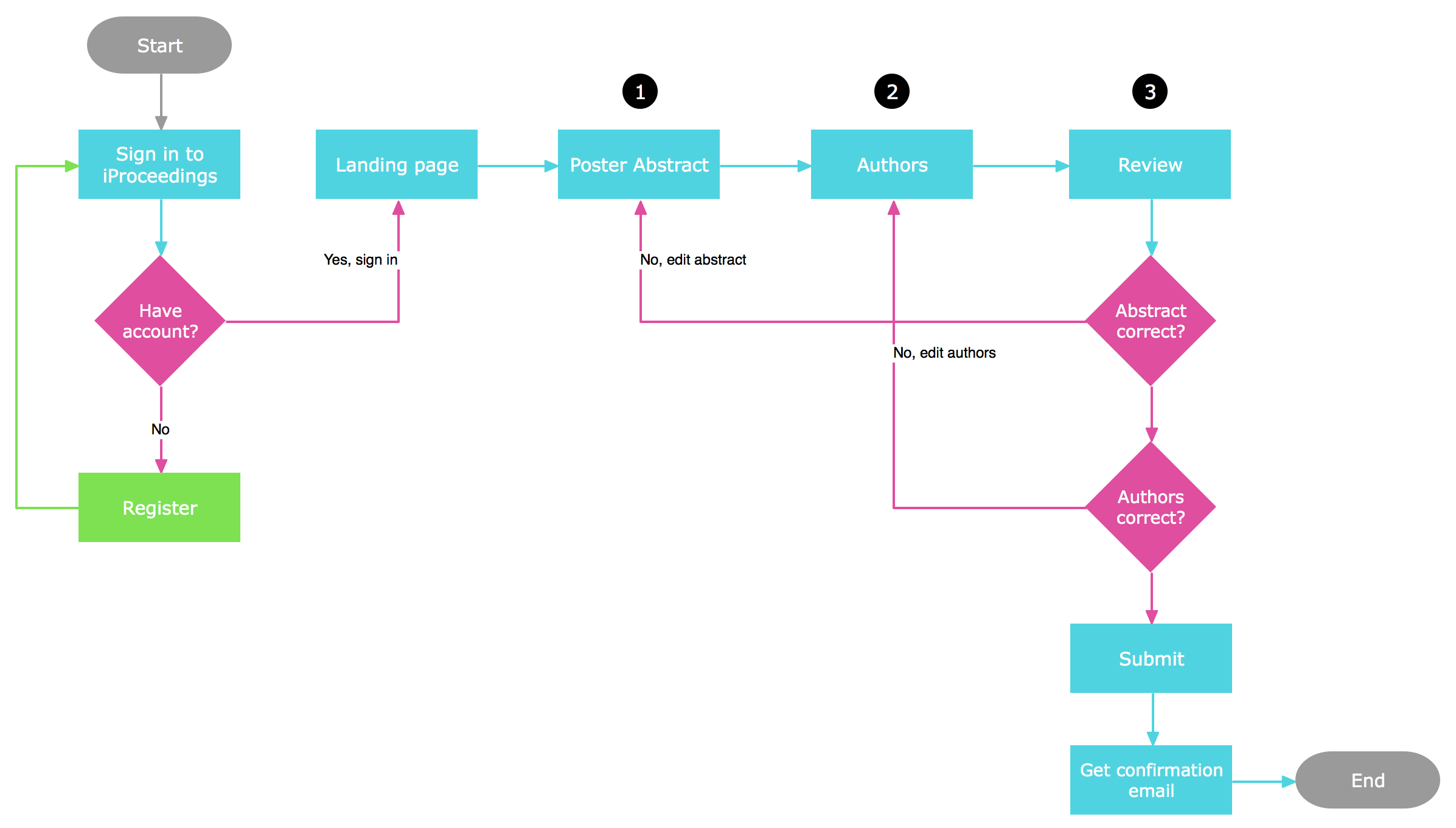 To start a submission for the Connected Health Conference, please go to chc.iproc.org. You will be asked to sign into iproc.org. If you do not already have an account, please register for one.
On the landing page, please review the eligibility criteria and submission guidelines.
In Step 1. Poster Abstract, please fill in the required fields:
Abstract Title
Abstract Background
Abstract Objective
Abstract Methods
Abstract Results
Abstract Conclusions
Topics (choose one or more from the list)
In Step 2. Authors, please start by choosing the number of authors, then fill in their information one by one. For each author, there will be two tabs: Author Information and Author Affiliation.
Author Information
Please note that you must save author information first before proceeding to the author affiliation tab. The required fields are as follows:
Presenting author: there must be one presenting author for each abstract submission. There cannot be more than one.
First and Last Name
Email address
Author Affiliation
Please add a new affiliation to the list if none has been previously saved. The required fields are:
Institution Name
City
Country: if the selected country is Canada or the United States, you will also be required to select the province/state.
Additional fields are only required if the the author is the Presenting Author:
Street number
Street
Phone number
Once an affiliation is added, select the checkbox next to the affiliation if you want to associate it with the current author. For subsequent authors, you can choose an affiliation that is already saved to your submission. Multiple authors can be associated with the same affiliation, and one author can have multiple affiliations as well.
Your abstract submission must contain at least one author, and every author must be associated with at least one affiliation.
Please always remember to click on the "Save & Close Author Affiliation" button once you are done with the second tab.
In Step 3. Review Submission, you have a chance to look over the entire submission before submitting. At the top of the page, you can "Download submission as PDF" so that you will have a record of what you are submitting. Please review all of the information you have saved from the previous steps. You can always go back by clicking on the "Edit..." button in each of the sections. If all is correct, click on "Submit Poster Abstract" to finish the process. Finally, you should receive an email from us to confirm that we have received your abstract.
Related: