Below is a citation report from Web of Science, generated April 2018: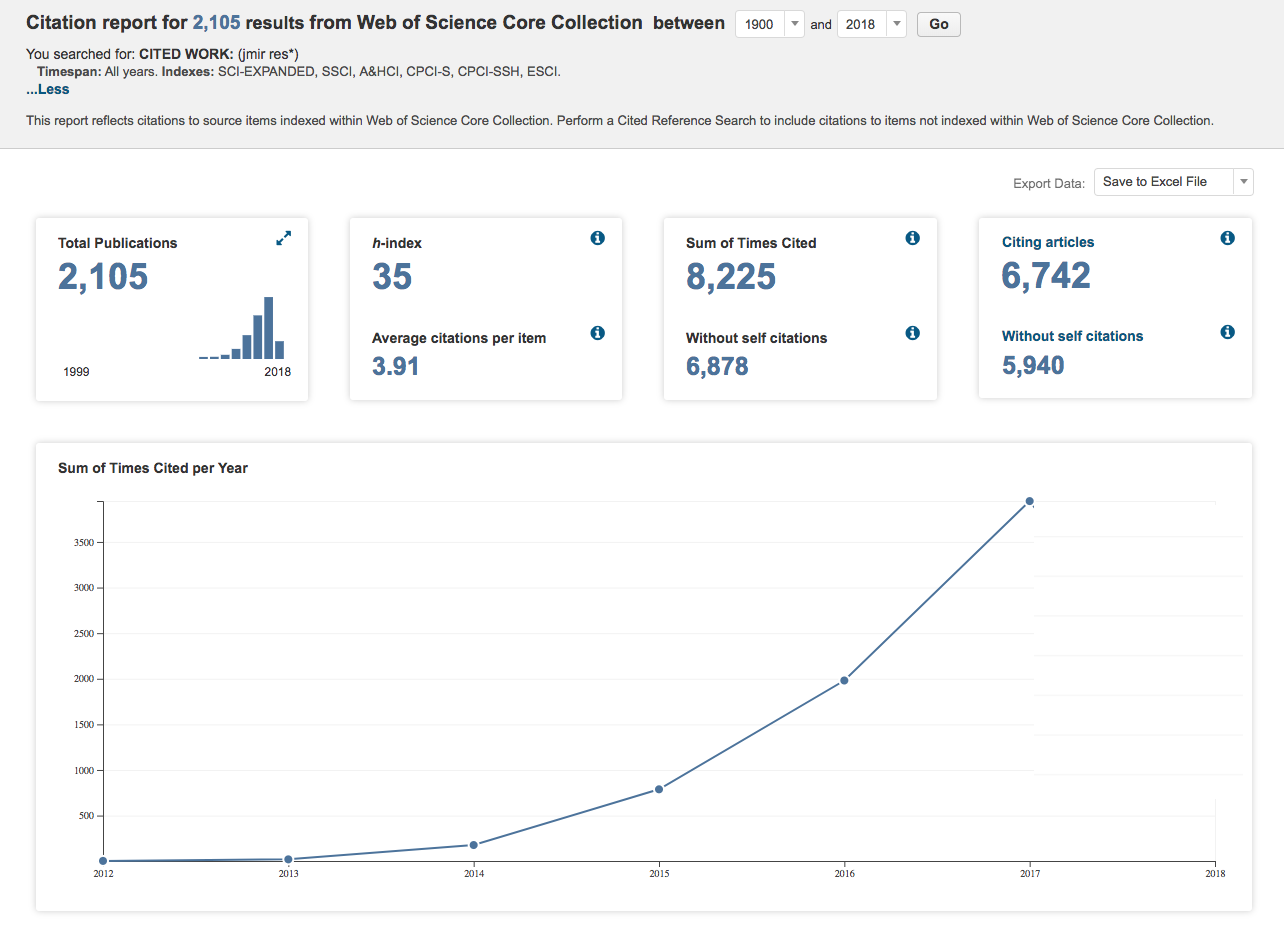 Unfortunately, as of 2018, despite stellar citation performance and an h-index of 35, JMIR Res Protoc still does not have an official Journal Impact Factor yet. For further questions about the impact factor, please contact its producer, Clarivate. Sadly, as publisher, we have limited influence on which journals Clarivate decides to cover and when. We invite you to fill in their form, as perhaps this will encourage them to speed up their evaluation.
We also receive questions about the "quartile" of this journal. Note that questions about the "quartile" assume that there are comparable journals, but in fact there are none - JRP is the only protocols journal, and Clarivate has no category for protocol journals. Please direct concerns, requests and questions about this to Clarivate or your Tenure and Promotion Committee (TPC) (assuming that the question is motivated by misguided/outdate Tenure & Promotion guidelines).
We do not calculate an unofficial impact factor for JMIR Res Protoc because this would demonstrate a regrettable misuse of the impact factor (see What is Impact Factor misuse?), in particular for a journal that publishes only protocols. The Journal Impact Factor is a journal-based average of citations, and should not be misused to deduce the importance or significance of the research, in particular if it is only proposed research!
Our authors do not (or should not) publish in JMIR Res Protoc (JRP) to get "impact factor brownie points".
We recommend to use the h-index as a proxy for journal quality. Google Scholar currently ranks JMIR Res Protoc #11 among Health Informatics journals, with a H5 index of 26 (as of Nov 2019) (note that the journal is misclassified here as well as it does not only publish Health Informatics-related papers).
Proposals and protocols are published to enhance transparency, collaboration, and to establish priority by creating an early record of their research plan and activities (see Why should I publish my protocol or grant proposal?).
The "impact" of a protocol is measurable not so much with citations, but in terms of immediate benefit to the society (reduction of duplication of work), new collaborations and successful grant proposals resulting from publication of a protocol, and/or easier publication of the subsequent paper that reports the results in high-impact factor journals (some of which now require the publication of a protocol). In addition, JRP authors can publish their full study results in any JMIR journal (which are all high-impact, well cited journals) with a 20% discount, and the paper is in principle accepted because it is treated as "registered report" (see Why should I publish my protocol or grant proposal?).
Please read: